Ethan spent a major part of his 13th month receiving angpows during the Chinese New Year festival and a minor part of it battling a cough.  During Chinese New Year, he had loads of new clothes to parade in, almost one new set each of the fifteen days of the new year.  We also bought him his first pair of sandals (this one's easier to wear than his Adidas ones because this one's got velcro).
Weight
9kg.  He lost 100g when he was sick, but gained back the weight as of last week.
Height/Length
Not sure, but more than 73cm, since he can reach the ground on both feet on tiptoe when he gets on his toy train vehicle.  I don't have a photo of him reaching the ground on tiptoe *yet*, but here's a photo of Ethan on the train 🙂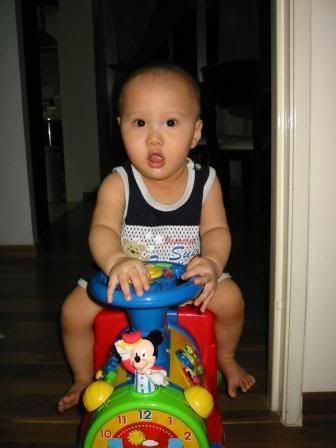 Teeth
Still 4 in total: 2 central top and bottom incisors.  4 more incisors on the top and bottom are fast appearing.  Either the whites are visible or the tooth can be felt through the gums.
Motor Skills
Ethan can now walk pretty fast, although in a wobbly manner.  He is learning and exploring the entire house, moving from room to room.  He is not afraid of the dark and if he finds himself in a dark room, he can move to the door and open it.

Ethan can squat very well (signs of really strong quadriceps and hamstrings).  I have even caught him squating and reaching for an object (while squating), then standing up and then returning to squatting position.

Throwing things is the highlight of the day.  When we take him home from the baby sitter's, he will trash everything in sight… all his toys will be thrown around the floor, and Pete and I are resigned to picking them up over and over again.
Communication & Social Skills
Will clap his hands whenever he hears any music, whether from his music toys (he has a toy piano and a toy banjo), or if someone sings to him. 

Will wave bye-bye when prompted.  But even when the people he is bye-byeing to is out of sight, he will still be waving.

He is ticklish when I kiss him on the tummy.

He has started showing some signs of independence, and sometimes will crawl to avoid Pete or me when we attempt to pick him up.  When we do pick him up, and all he wants is to be free to roam on the floor, he will make a quick diving motion, and if we still resist letting him down on the floor, he will attempt to bite us.  Yikes!

He has begun to thrown tantrums when he does not get what he wants.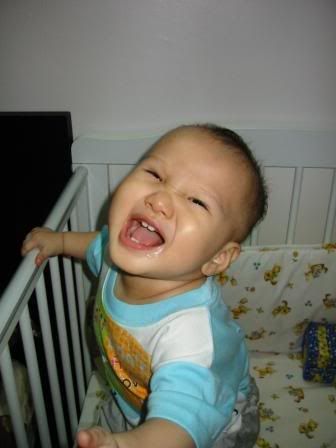 Food
I introduced some legumes and honeydew, besides introducing "Ikan Jenahak" – not sure if it is "Kalat-hoo" but he loves it all the same.  The one item that he absolutely loves though?  CHEESE!!  Our boy will wallop a whole slice if we allow him to.
I'm still providing food cubes to Mrs Tan, our baby sitter, to make it easier for her to cook Ethan's porridge.  So in my freezer, I have ice trays filled with food cubes such as fish cubes, tomato cubes and vegetable cubes.