We took Ethan to get his passport done today.  We are planning a trip to Singapore (maybe) soon, so we're just getting everything ready first.  My own passport had also expired last year, so I did mine at the same time.  This is Ethan's passport photo, taken a few days earlier.  I placed him on my lap and he was facing at a right angle to where I was facing.  Leng-chai or not? 😉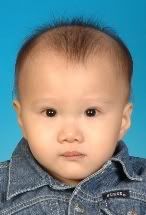 After that we hopped over to Standard Chartered and opened an in-trust savings account (Young Savers Account) for Ethan with the moolah he received from Chinese New Year angpows.
We had lunch at New World Park and then it was haircut time for our whole family!
We drove to Prangin Mall to the hair salon we frequented mainly because of the head massage thrown in :P.  Pete had his hair cut while I breastfed Ethan in the baby room in Parkson.  Ethan fell asleep soon after and I placed him in his stroller and pushed him to the hair salon.  While he slept, I had my hair cut and washed.  He woke up just in time as Pete had just finished his hair cut about 5 minutes before that.  So after I finished my hair cut, we asked the hairdresser to use the shaver blade #2 to shave Ethan's head.  As expected, our boy struggled and screamed, because as you know, he hates anything on his head.  Thankfully, it was all over within a space of 5 minutes or so.  Results?  Handsome leh…..!