Last weekend, we made a trip to our hometowns on Ipoh and Taiping.  It has been quite some time since we went back (I think the last time was CNY), so since there was a long holiday and all, we decided to go first to Ipoh on Saturday and then to Taiping on Sunday.  We had planned on packing on Friday night and leaving as early as possible on Saturday, but Ethan apparently had other plans in store for us.  On Friday night, he decided that he wanted to stay up as late as possible, hence making it impossible for us to pack.  In the end, we had to do everything on Saturday morning itself; we had our dim sum brunch and were on our way about half past noon.  We arrived in Ipoh at about 2:30p.m. and it didn't take long for Ethan to get acquainted to his Ah Ma and Ah Kong, and of course, the house… see how much at home he is?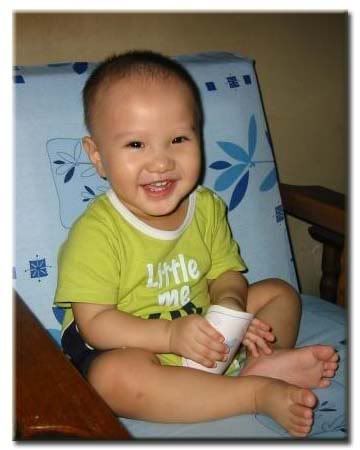 There is toy in Ipoh that fascinates Ethan so.  It is actually a dustbin, but Ah Ma bought it not to be a dustbin, but more so to entertain Ethan.  It's amazing what normal every day things can do to kids, huh?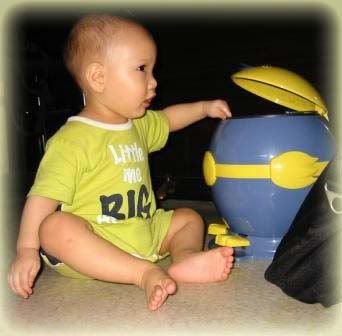 After dinner on Saturday night, Ah Ma and Ah Kong took Ethan across the road to Kinta City for about half an hour, to have a field time at the escalators.  Yes, Ethan is still very much in awe of escalators and we can really feel the force towards the escalators every time we go to the mall.
On Sunday morning, we went to the famous Nam Heong coffee shop in Leech Street, Old Town to have brunch.  This is the shop where the famous white coffee originated from.  Ethan could not take coffee, at least not yet, so he had to make do with the roti bakar.  Yummy yummy…. see how he checked to see what it is before he puts it in his mouth?  Definitely traits of a discerning food connoiseur….
Before leaving Ipoh, Ethan had some fun at home, playing with Ah Ma and Ah Kong, while Mommy and Daddy packed up.
Ethan did not sleep at all in the car from Ipoh to Taiping.  He was busy checking out the surroundings and what he could see from the car window.  And when we reached Taiping, it didn't take long for him to find his playmate – a punch-n-bounceback toy!  It was a toy which Aunty Pauline had bought and although it is rather heavy for a kid, our boy can easily put his arms around it and lift it up!
Too bad the mosquitoes in Taiping got a little too close for comfort and gave Ethan 2 little *presents* as soon as he arrived.  But Ethan was still his jolly good self, and since Ethan boy had so much energy, we decided to take a drive to the Taiping Lake Garden in the evening.  Would you believe he actually fell asleep in the car on the way there?  We woke him up nevertheless upon arrival and he immediately wanted to walk around on his own.  No, actually he wanted to walk TOWARDS the lake.  It was dangerous, so most of the time, we had to carry him.
We reached home on Monday evening, tired and missing Penang.  Ethan of course went around our house checking that everything was still there 😛
Actually I had planned on introducing formula to Ethan on May 1st but unfortunately Daddy fell sick, so I had to put my plans on hold, as breastfeeding would give Ethan the necessary antibodies to combat Daddy's flu.