I took Ethan to his first playgroup today.  I had planned on organizing this playgroup for so many months, I am so happy it finally materialized!  After feeding Ethan his tea at about 4p.m. (strawberry yogurt), Ethan and I made our way to Charlotte's house.  This was the second time I had gone out all alone with Ethan.  We were the first to arrive at 5:00p.m. sharp and I let Ethan and Charlotte warm up and get to know each other.  I brought along Ethan's Sesame Street soft books to share with the rest of the kids.  Not long after, Bryan and then Hin Lerk arrived. 
Although the kids were rather shy at first, they didn't take too long to throw their inhibitions away.  Ethan very quickly noticed the staircase and proceeded to walk towards it.  I had to take him up and down a few times, but he was still not tired.  There were plenty of toys to have the kids occupied too, in addition to the Baby Einstein DVD which only managed to capture the kids' attention for only a short while.  All the kids were also treated to apple slices, which Ethan walloped happily.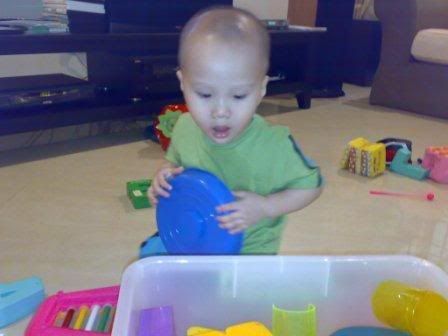 Something else happened during the playgroup too though, and yes it involves Ethan boy…watch: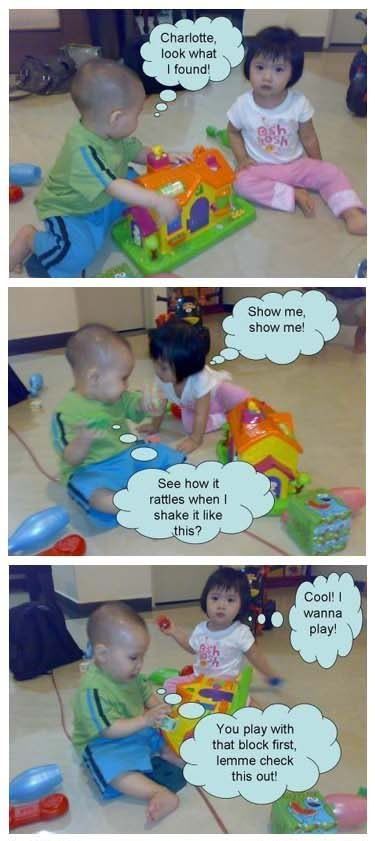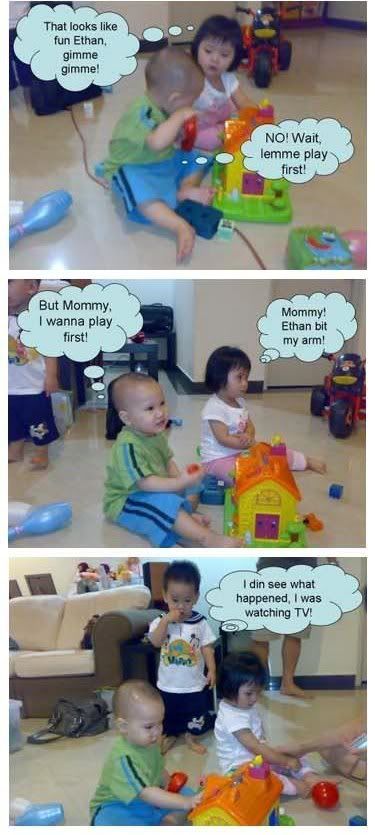 After the incident, when Charlotte was shown Ethan's picture, she tapped her chest repeatedly, signalling fear.  I hope Charlotte is not hurt, although there were some teethmarks on her arm afterward…Ethan will only bite when he wants to show affection or when he is "geram"… maybe it is the former? 😛  I'm sure he didn't mean to hurt such a sweet little girl like Charlotte….that being said, I hope Ethan will still be invited for the next playgroup…..