Yesterday, we attended Ethan's Ah Chek (Uncle Patrick) and Aunty Christine's registration of marriage.  While waiting for the registrar to arrive, we kept Ethan occupied by walking him around and of course, snapping pictures.  I caught the official photographer taking a few shots of Ethan too!  The registration ceremony was a simple one and was over in a jiffy!  Ethan behaved himself extremely well throughout the entire ceremony, apart from a few rather subtle *sounds* coming from him.  I bet those would be audible in the video… hehehe…
After the marriage registration, I could sense that Ethan was already hungry (as were we), so made a beeline for the g Hotel, where the food-tasting cum celebratory lunch would be held.  Since we were still early when we arrived, I took Ethan to the Baby Room at Parkson to breastfeed him, and as expected he fell asleep after a few minutes at the breast.  However, when Pete came to carry him, he woke up and when he realized he was in a shopping mall, with escalators and more escalators, he was immediately rejuvenated!  With all that energy in him, we knew we would have our hands full soon.
We proceeded to the new g Hotel to have our lunch where Ethan enjoyed every bit of it!  He also enjoyed stomping his way on the wooden flooring along the window pane, walking back and forth and smiling all the while.  The g Hotel prepared a rather sturdy RubberMaid baby chair for Ethan, which I must admit looked really macho 😛  Ethan sampled almost all the food that was served, his favorites being:
which he declared to be:
After lunch, we headed for home.  And what can we do after a hearty meal but to: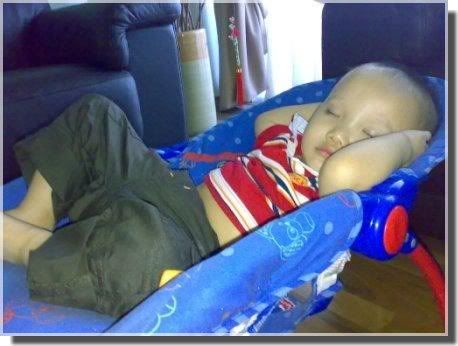 And sleep he did, for TWO whole hours undisturbed!  He actually fell asleep in the car on the way back from lunch and slept on his Fisher Price chair when we reached home.  Pete even managed to trim Ethan's fingernails then!