A vacation to Singapore would not be complete without a visit to Sentosa Island, now would it? I can barely remember my last visit to Sentosa Island, but my Mom tells me I was really young then. I vaguely recall taking the cable car all the way to the island and back though. In fact, my parents had their honeymoon in Sentosa Island. The island must have changed a whole lot since then. For one, we had heard a lot about the Underwater World, and were eager to show Ethan all the underwater life which we knew he would so love.
After our breakfast, we took the MRT from Little India to Harbourfront, which was about 6 stations away. This time, there was no need to change to a different MRT line and it only took us slightly more than 15 minutes to get to our destination. The Harbourfront MRT station is directly connected to VivoCity, the newest, biggest, trendiest shopping mall in Singapore. We'll get to the shopping later, I thought to myself. 😀
Initially we wanted to take the cable car because we wanted to have a good view from above. We then learnt that a cable car ride would cost SGD11, and comparing that to the monorail, which costs only SGD3, we opted for the latter. The monorail ticket was a return ticket, and it was inclusive of all the bus rides we would need to take on Sentosa Island itself. As it turned out, taking the monorail was a great decision on our part, because not only did we get to take in a spectacular view of our surroundings, the entire journey via the Sentosa Express took only a mere 10 minutes (which is a bonus for Ethan who is prone to getting restless)! From the monorail, we could see the cable cars moving towards Sentosa Island, and comparatively, they were taking forever! Upon reaching Sentosa Island (Beach Station), we took a bus all the way to the Underwater World.
Ethan of course enjoyed free admission, but we adults had no reason to complain either, because we got a 10% discount when we paid with the Citibank credit card 🙂
The first stop we made was to touch and feel the stingrays. They felt leathery and slithery! I did not allow Ethan to touch them though and he didn't complain either because he was more fascinated with the many aquariums on display. He could see the fishes up close and it was apparent he was having a field time doing so.
To keep Ethan occupied and not-so-restless, I had brought along a small box of cornflakes. Learning from the zoo adventure, it was a no-no to allow him to get hungry, so I kept him busy eating and munching on cornflakes 🙂 Good parenting tip, eh? *wink* So amid the exhibits of crabs, fish, jellyfish seadragons and seahorses, Ethan was happy with his snack and Daddy was happy with his snapping… photos, that is.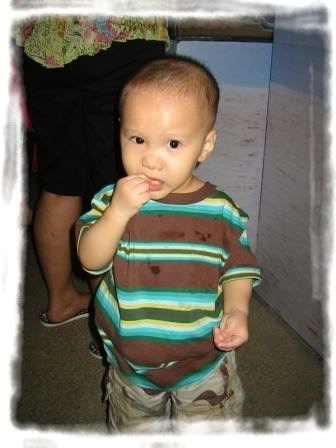 I personally felt the highlight of the Underwater World was The Tunnel. Here, we just had to stand on a moving walkalator that took us through a tunnel where we were surrounded by all kinds of underwater life swimming all around us. Fish, sharks, manatees, you name it…. there were many moments that prompted us to go "Ooooooh…." and "Waaaahhh……", if you know what I mean.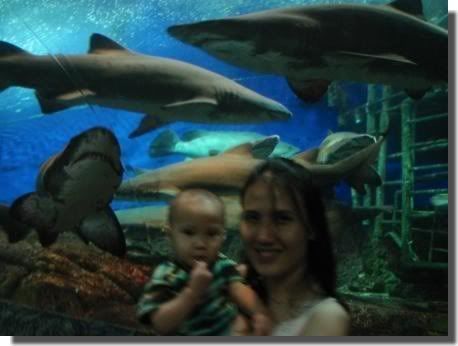 All in all, we really enjoyed ourselves at the Underwater World. After taking lunch, we realized it was drizzling outside when we were about to leave. Since we still had time, we decided to go to the Dolphin Lagoon after that. The entrance to the Dolphin Lagoon had already been included in the admission fee for the Underwater World anyway. So we took a bus there.
Ethan was already hungry for milk by that time, and I was again deeply disappointed that there were NO breastfeeding facilities at the Underwater World OR at the Dolphin Lagoon. So upon reaching the Dolphin Lagoon, we walked a few hundred meters to the nearest restroom. Realizing it could be a challenge to breastfeed in the restroom, not to mention the issue of hygiene, I prayed so hard that there would be a conducive place for me to breastfeed him, and God again provided 🙂 The restroom was one that had an open area where there were four benches shaped to form a square with a roofed shelter. All I had to do was sit there and breastfeed him. And he fell asleep promptly. Poor lil guy – must have been tired out after looking at all the fishies…..
I then carried Ethan out to meet Pete, who was waiting for us on Palawan Beach. Palawan Beach is situated just beside the Dolphin Lagoon. We still had about half an hour before the Meet the Dolphins show was to start, so Pete and I decided to take a stroll to the Southernmost Point of Continental Asia. This is where I am a little confused…. so Singapore is considered part of the CONTINENT of Asia, even though it is an island? Eh? Anyway, benefit of the doubt…..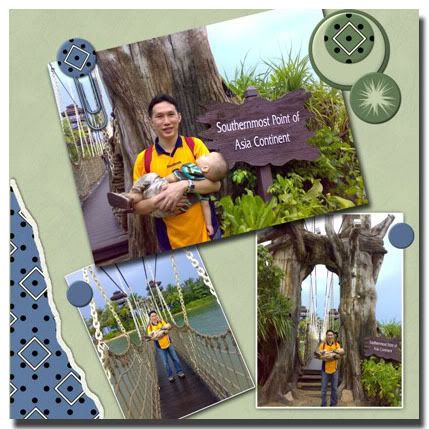 Well anyway, with Ethan still asleep, we carried him across a slightly rickety bridge to this southernmost point. The view was just amazing, and the swaying trees and windy breeze kinda reminded me a little about what Maldives was like. Ethan, unfortunately, missed all of this because he slept through it all.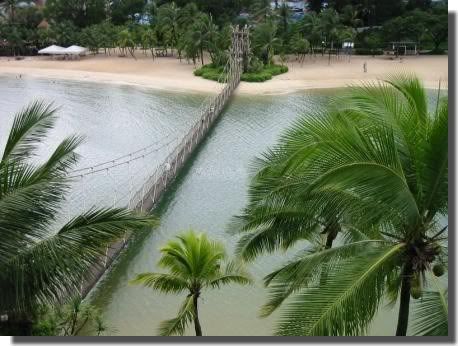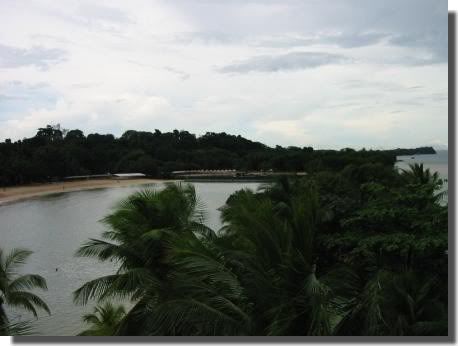 Then, from our vantage point, we suddenly noticed that people were beginning to take their seats for the Dolphin show, so we made our way back to the Dolphin Lagoon. Our boy suddenly woke up as we were making our way back across the bridge… so he was wide awake and chomping happily on his cornflakes as we waited for the show to start.
Unfortunately, not much can be said about the Dolphin Show. Apart from the unique looking pink dolphins, the show was rather disappointing. Well, maybe I had my hopes way up too high, but in spite of that, Ethan sure enjoyed the show, as he was clapping away right on cue 🙂
After the show, we took the bus back to Beach Station where we boarded the monorail back to VivoCity. The monorail actually stops at a couple of other stations on Sentosa Island too, but we chose not to get down….although we almost got down when it stopped at the Merlion. Pete however managed to capture an awesome shot of the famous Singapore icon, all from inside the monorail. Nice eh?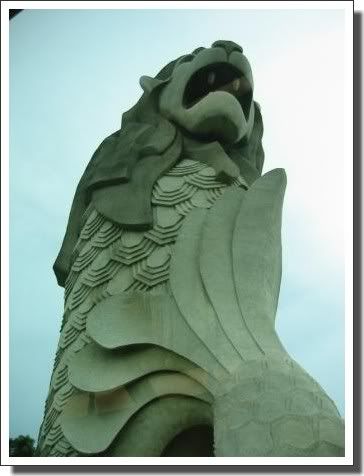 So we had about 2 hours to kill before dinner – what to do? Shop, of course! The mall was VERY spacious and Ethan was VERY happy, not only because he got to run all over but also because yup…there were escalators everywhere! Mommy was very happy too, because she spotted Forever 21, which was WAY bigger than the branch at Wisma Atria. And as for Daddy? Well, I'm sure he had a lot of fun chasing Ethan around… heh.
In accordance with our plan, we had our dinner at Marché.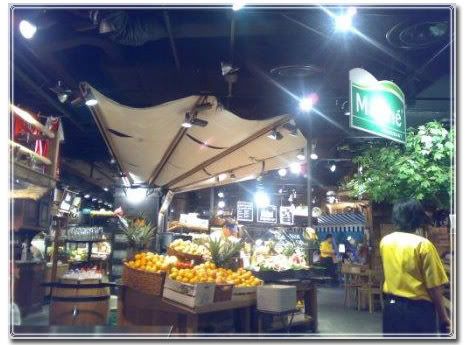 The baby chairs at Marché were a little different than the ones Ethan is accustomed to, but he adjusted well to it, thankfully. So while I went to order the food, Pete entertained Ethan while waiting for the food. During our Singapore trip, we noticed that Ethan has learnt how to cross his fingers, …check it out in the pictures below….. see it?
Marché's food is freshly made upon ordering, and because Jazzmint had recommended some stuff which she had tried before, I decided to order some of those. We tried the mushroom soup, rosti, seafood paélla, crépè with Movenpick ice cream and the root beer. And let me tell you, the root beer was simply fantastic! We've never tasted root beer that good before…. Oh, and Pete also *discovered* the Swiss cross buns, which looked like the regular potato buns, but taste really soft and fresh. They went oh-so-well with the mushroom soup. And what did Ethan have? Why, a little of everything of course! Except the root beer la. His favorite was the mushroom soup, the paélla and the Swiss cross buns. Yeah, he's a carbs kinda guy.
A dinner that was a fitting end to a spectacular day.