All I can say is that we made the right decision to postpone our trip to KL last weekend.  SIGH.
Last Thursday night, Ethan developed a fever, so we gave him a dose of the Paracetamol suppository.  He was also coughing with traces of phlegm.  The next morning, he still had a fever, so I gave him another dose.  His body was slightly warm when we left him at the baby sitter's though.  We told Mrs Tan that we would come by to see how he was doing during lunch.
When we got there, I took his temperature and it read 37.8°C!  So we told Mrs Tan to give him the suppository and that we would come and take him home at around 4:00-ish.  When we arrived at 4:30p.m., Ethan's body felt really hot, and although I was already panicking on the inside, I tried not to let it show.
5:30p.m. I took his temperature and it was a horrifying 39.4°C!  Since we had already run out of the PCM suppository, we had to force a dose of the oral PCM down his throat.  I breastfed him and could only pray that the fever would subside soon.  Dr Jessica's night clinic would only be open at 7:00p.m. so we had to wait till then.
At GMC, Ethan's temperature had subsided somewhat, although when the nurse took his temperature, it still read a relatively high 38.9°C.  Despite nursing a fever however, Ethan was still very interested in the escalators at the hospital.
The diagnosis?  Ethan has an infection in his throat and left ear, Dr Jessica said.  When she inspected, his left ear and throat were red, but thank goodness there were no white spots in the throat yet (white spots meant trouble, I had read somewhere).  The initial throat infection probably had spread to the ear.  Besides the infection, he was also suffering from a runny nose and of course, was coughing too.  He was prescribed Paracetamol (for fever), Rhinathiol (for cough), Polaramine (for flu), Azithromycin (antibiotics) and Iliadin (nasal drops).  All familiar names to me by now, because Ethan had been on the same range before.
We went to Old Town for dinner where I was very thankful that Ethan took a bit of the koay-teow.  We took him back home, and practically had to force the medicine down.  His fever was also monitored closely.  That night proved to be a highly trying night for us.  I had to give him the PCM suppository every 4 hours because throughout the night, his body temperature hovered around the 39.2°C mark.  It was a sleepless night for all three of us.  Ethan decided he wanted to wake up in the middle of the night to watch Baby Einstein and walk around the house, I had to wake up with him, and Pete, being a light sleeper, could not get any sleep as well.  Ethan finally went to sleep but was still rather feverish in the morning.
Saturday morning, I reported to Dr Jessica that his fever was still on the high side, and she assured me that it would take about a day or two for the antibiotics to react.  Thankfully, Ethan's fever subsided throughout the day.  Pete and I also decided that we should see our doctor to get some medicine ourselves since we were both also sick, with somewhat similar symptoms.  We then had Japanese food for lunch.  Japanese food is always our *comfort* food whenever any one of us is sick.  And since all three of us were feeling under the weather, the choice was obvious.
Sakae Sushi provided us with a booster chair instead of a high chair, and that was really good because then, the chair would not block the pathway.  Ethan enjoyed his chawan mushi and rice, as usual.  And we were glad that he was eating, at least.
After lunch, Ethan fell asleep and when he woke up, he seemed very listless and rather pale.  He rejected my breast and would not even drink any water, instead preferring to walk around aimlessly.  When we offered him his favorite Yakult yogurt drink and his Calci-yum yogurt, he angrily rejected them too!  I even tried mixing a feed of formula for him, but this was met with just plain disgust.  I offered my breast again and again, but again and again he made a face and pushed me away.  This was very unlike him and very odd indeed, as he has NEVER EVER rejected my breast before.  "Could this be the start of him being weaned from my breast?" I thought to myself.
Come dinner time, he didn't even want a single strand of the spinach noodles I had prepared for him.  We managed to get him to drink a few sips of water and he did nibble on a few grains of Rice Crispies and raisins, but that was all. 
Then it was time for his medicine.  Pete would usually give him the antibiotics first, followed by Rhinathiol and then Polaramine.  This time, after his force-feeding of the Rhinathiol, as I was carrying him away, he suddenly threw up on the floor!  There was very little vomit only though, because our boy had hardly eaten anything since 3p.m.  And that was the first time he threw up ever 🙁   We finally managed to feed him the medicine and gave him a shower after that, although he was very upset.  Our boy was very sleepy by then, and he also looked very tired and weak, because he had not eaten or drunk anything much.  After his shower, he fell asleep immediately.  No comfort suckling at the breast, I just put him in his cot and he was out like a light.
Then at about 3:30a.m. Ethan woke me up.  I took him to the kitchen to get some water because I could tell he was thirsty, and he vomited again!  I cleaned up the kitchen floor, and gave him a few sips of water (he was still not interested in breast-milk at that time).  He fell asleep after that, but woke up about half an hour later and threw up again on our bed and on me…..   🙁  It was extremely worrying as I knew he was probably dehydrated, but there was nothing we could do… we could only let him sleep.
The next morning (Sunday), when he woke up before 8:00a.m., I tried to breastfeed him again, and I was so overjoyed that he FINALLY drank the milk.  I could tell that he was VERY hungry then and was craving for it so badly.  My heart ached to see him suffering the night before when he rejected the breast.  It was as if he knew he had to refrain from drinking breast milk because  *knew* that if he did, he was going to throw up. 
He fell asleep again after his feed and only woke up after 10a.m.  His appetite seemed to have returned somewhat, although he would only take breast-milk for breakfast and lunch, and throughout the day.  But at dinnertime, he took some koay-teow too!
After dinner, and after his medicine was administered, he again rejected the breast.  And he again fell asleep without being breastfed.  Even more worrying, his temperature shot up again to 38.5ºC!  I gave him the PCM suppository and monitored his temperature through the night, as usual.
Pete and I took the day off today to take Ethan to see Dr Jessica again.  His temperature was going up and down like a yoyo and that was not something we were comfortable with.  Dr Jessica checked his throat and said the infection had cleared up.  However, both his ears were infected now.  So she prescribed another round of antibiotics (a different one, this time: Zinnat), which we were to administer 5ml twice a day for 5 days! I almost fainted… We decided to have Ethan take the antibiotics jab first in GMC, so we could start the *torture session* only tomorrow.  His fever had returned too, so we had to give him a PCM suppository in the hospital as well.  We were instructed to bring Ethan in for a follow-up check after the 5-day-antibiotics-dosage had been completed.
After the Zinnat jab and PCM suppository, we were told to wait for an hour to see if there were any adverse reactions before we were allowed to leave the hospital.  Good thing there was a playroom at the pediatric ward with a Little Tikes house to keep Ethan busy… of course, to add to the drama, our boy chose to poop then and there too, so we had to clean him up.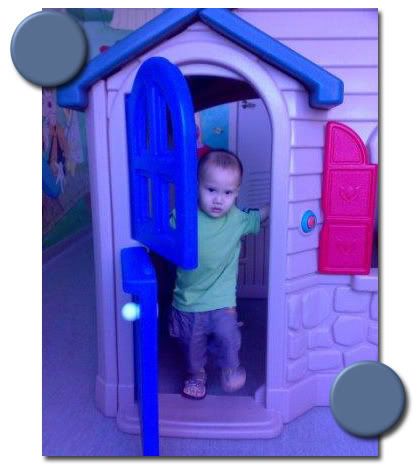 So….we're back home now, and Ethan is finally asleep.  This whole experience has reinforced in us that it's really tough being a parent.  It comes with its ups and downs, I guess.  I pray that God will bless Ethan and grant him the strength to fight against his illness and that he will recover soon.  Get well my darling boy.  I can't wait to see you back to your cheerful, cheeky self again!