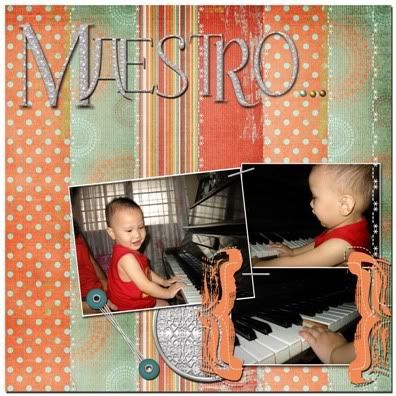 Scrap Credits: Sun Porch kit by Amy Teets
A four-day weekend awaited us in conjunction with the Hari Raya holidays, so we decided to make a trip to Ipoh on Saturday.  Ethan's  Ah Ma and Ah Kong would certainly be pleased to see him. 🙂 For some reason, Ethan was very restless the entire journey, choosing to scream his lungs out, so much so that I had to move to the back seat to entertain him.
Anyway, we arrived in Ipoh sometime after lunch on Saturday and Ethan wasted no time in getting acquainted with his surrroundings.  He loved to climb atop the chairs in the living room, sat there for a moment, and then ran into my room and closed and open the door.
But what fascinated him a lot was probably the piano.  I put him on my lap and allowed him to touch and *play* on the keyboard. Soon enough, to our horror, he even figured out how to lift the cover of the piano!  Yep, he was tall enough to reach now… We really had to keep our eyes peeled on him at all times!  He would then lead me to the piano chair and ask to be placed on my lap so that he could proceed with his *masterpiece*.
Yes, I am very proud of my little big boy, the maestro at work.