We had planned on visiting the Aquaria during this trip to KL because we knew that the Crowne Plaza was very near KLCC. However, little did we know that "very near" meant that the Aquaria was just within walking distance from the hotel! We were in luck! We only had to take the connecting escalators from the hotel, which brought us to the side of Wisma UOA along Jalan Pinang, and from there, it was just a short walk across the road to the Kuala Lumpur Convention Center where the Aquaria was located. (Actually at first we went all the way to the Mandarin Oriental and then we had to patah balik when the kind receptionist from MO showed us the correct way. Heh.)
Anyway, when we arrived at the Aquaria, there was already a tremendously long queue waiting to purchase tickets to go in. I quickly joined the queue while Pete had the honorary task of taking care of Ethan. Our little big boy was very active and kept wanting to go up and down the nearby escalators. At times, he would come and look for me in the queue and at other times, he would rather wander around the entrance of the Aquaria.
When we finally got our tickets (entrance for Ethan was free, of course), we went in, eager to see if the Aquaria was anything like the Underwater World in Singapore. Ethan was fascinated by the all the fish and underwater life and kept saying "shhh…shhhhh" (that's how he says "fish").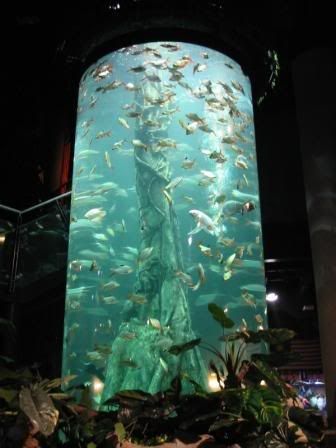 However, all the fish and turtles were forgotten when Ethan saw the underwater tunnel. He began to struggle to indicate that he wanted freedom to run about. I tell ya, it was so difficult to get a proper picture in the tunnel because Ethan ran so fast! There was a moving walkalator that moved all through the underwater tunnel too, and Ethan was walking and running on it as well. It was tiring for us too, because we had to stay close behind him. Sometimes, when he found that his path was blocked, he would either scream for the people to move aside or he would just push them aside. And if these methods did not work, our boy would just barge through. Tsk tsk… And if that's not enough, after practically running through the entire tunnel, he ran to the beginning and started all over again. We must have gone through about three rounds that day!
Well, in the end, we finally carried him, protesting and screaming to the exit. Thankfully there was an escalator there to distract him. Pete wanted to take a picture of Ethan and me in front of a model of the jaws of a shark (I think), but this is what came out of it: