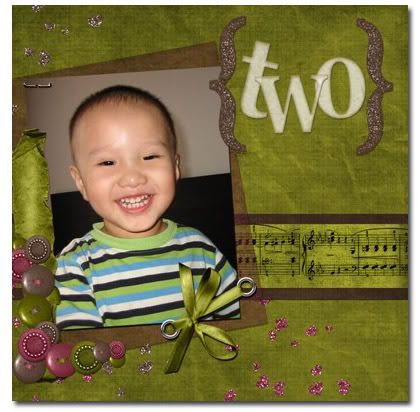 Scrap Credits
The Star kit from Digiscrap.ch
Basic chipboard alphas from Dani Mogstad
The inevitable Terrible Twos are upon us, and it certainly looks like Ethan has already taken the cue because he is fast exhibiting more prominence on being his own person and forming a cheeky, naughty personality of his own.
Weight
Feels like 11 kilos.
Height
82-85 cm
Teeth
Fourteen: 8 incisors, 2 canines (upper) and 4 pramolars (2 upper and 2 lower). There are signs that he may be teething soon, because he salivates a lot these days.
Motor Skills
Can slide down a slide properly.
Becoming quite the expert at climbing up the stairs and he had a lot of practice during Chinese New Year. He is rather cautious when he comes downstairs though, especially if the steps are steep ones.
Loves to swing arms around, as if he is exercising or something.
Can really throw a ball properly, sometimes way better than those footballers doing the throw-in during football matches.
Can kick the ball really well. Pete will soon be taking him to the field for a one-on-one football match.
Eagerly takes angpows when he is offered one.
Can take a balloon and swing it to hit people's heads. Yes, he is quite violent…
Communication and Social Skills
We are seeing some progress in the communication aspect. New words he has learnt are

"Foo-bor" or "oo-bor" (football)
"two"
"ee", "errr" (one and two in Mandarin)
"eat-eat" (eat – when we are driving out to dinner or lunch)
Watching Baby Einstein's Baby's Favorite Places has also paid off. Yesterday he amazed me when he signed the following when I prompted him:

School – place one palm on top of the other, in the sign of a book.
Library – form the letter L with the thumb and index finger and wave it around. (Actually he did the "library" sign before but now it is more consistent).
Driveway/sidewalk – points both arms to the front
Playing field/playground – waves both arms in the air
Garden – clasps both hands together. Actually the actual sign is to make like a blooming flower, but he is still practising.
Throws a mean tantrum whenever he doesn't get what he want. For example, when we ask him to go somewhere and he still wants to play outside, he will bang both his hands on the wall or pillar or something in frustration. When we try to carry him, he will kneel down on the floor and protest. Or shake his head vigorously.
Has developed a preference for certain channels on TV. When the TV is tuned to a channel he finds boring, he will grunt or scream in protest, so we have to change the channel. If the Astro remote is not within our reach, he will bring the remote to us to ask us to change the channel for him. Oh, he prefers Channel V to MTV… don't ask why.
Food and Feeding
In the words his Daddy uses, Ethan eats non-stop.
Ethan is now ALMOST fully weaned from the breast. I no longer breastfeed him in the daytime and in the evenings before he hits the bed, even when I am with him the entire day. He hardly asks to be breastfed too, and sometimes when he does, it is at night, and when I tell him "No", he will obey. He can also fall asleep without comfort suckling now, which to me, is a great achievement. Immediately after his 2nd birthday, he automatically decided that he could go to bed at night on his own, of course, with me by his side still. Now, the final obstacle is to fully wean him from the breast for the middle of the night comfort sucklings. There were a couple of nights where he slept through soundly too.
Likes to feed himself. Sometimes he won't even eat until I put the food on the plate in front of him so he can help himself to it.
Favorite foods: chicken rice, chicken koay teow, spaghetti, plain white bread, char siew pau, siew mai, Yakult, yogurt, apples and bananas.