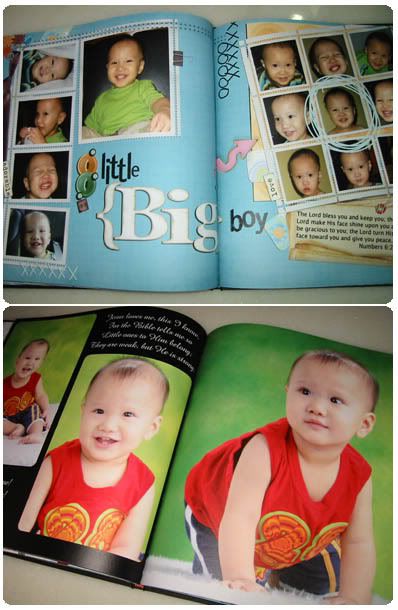 At first I had planned to present it to Ethan's grandparents for Grandparents' Day last September, but I couldn't get it ready then.  So I decided to try for Christmas instead.  Well, Christmas came and I was not even close to finishing it.  Then I adamantly targeted Ethan's second birthday, but because of some hiccups with the file upload and ordering process, I rescheduled the targeted date to Chinese New Year.
Finally the photobooks are ready.  I received them three days before Chinese New Year, and got them wrapped up as presents for Ethan's grandparents.  I had printed three copies of the photobook – no prizes for guessing who gets the third copy
  The photobook contained pictures of Ethan which I had digitally scrapbooked with the used of Adobe Photoshop, no glue required.  All forty pages held memories which were dear to us, and I am sure Ethan's grandparents would be thrilled with the book too.
We presented the photobook to both his Ah Mas and Ah Kongs for Chinese New Year, and I could see their faces light up with pride when they saw what the present contained.  May they enjoy hours and hours of flipping through the book and sharing Ethan's photos with their friends and visitors
  Someday Ethan boy will enjoy the book too… I just know it! 😀