All this while, Ethan has only been wearing open-toed sandals. He used to have a pair of covered sneakers, but (I think) because that pair was not made of breathable material, his feet stunk when he sweats and we never put them on him again.
I had bought a pair of brown sneakers for him sometime back. They looked so boyishly cool, I just had to get them. Plus, they were on discount then – how could I resist? I got the smallest size available, but Ethan still could not fit into them at that time.
But just recently, I decided to try if they fit. Lo and behold, they did! Well, there was a small space when he wore them, but I figured they would fit perfectly with a pair of socks.
So on Easter Sunday, I dressed Ethan in his new white striped GAP polo shirt (*new* because I bought it so many months ago, but my string-bean kid can't fit into it yet. Even now, it is a little loose), matching new socks and his new shoes. Handsome, boh?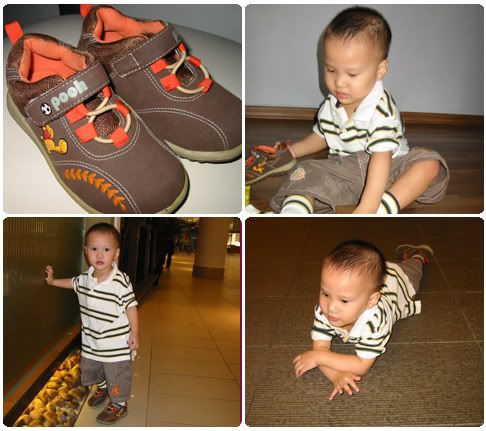 At times he felt rather weird with socks, so he asked us to remove them so that he could *air* his feet. Lawl!
In church, Ethan was fascinated with the brick wall surrounding the altar, and because we sat at the side of the pews, it was a good thing he could be kept occupied there. When he saw us kneeling in prayer, he too joined us. He even followed my cue when I showed him how to position his hands in prayer position.
What an absolutely awesome blessing from The Lord this Easter!
…and now to teach him how to recite The Lord's Prayer…. 🙂