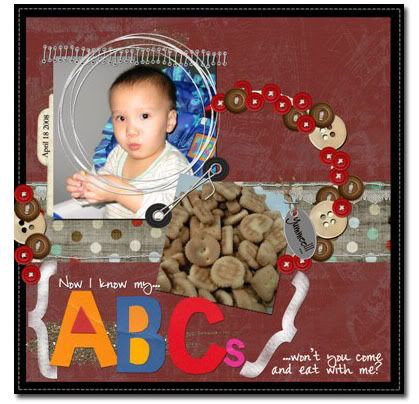 Scrap Credits
Template 18 from Fanette Design
Always Welcome  kit from Kelly Puddy
Life is Good mini kit  from Amanda Heimann
100% Tampons circles & brackets from [ v.vv ]
HoldEmUps from Tara Dunstan
Handcut paper alphas from Grazieli Niclass
When Ethan attended his first parent-toddler session, they provided the kids with biscuits and water.  I noticed that Ethan took a liking to the biscuits immediately.  These biscuits were in the shape of animals and alphabets, and they were just the right size for Ethan to pop into his mouth.  They were the kind I like too, because they were not sweet and don't crumble easily.  Images of Ethan making a crunbly mess with the pineapple tarts and cornflake cookies send shivers down my spine.
Well, anyway…I have been looking for these little cookies ever since, and finally just the other night when we were in Tesco, I saw them being sold.  Ethan was at his usual wriggly self, so I was thankful that Tesco had some prepacked ones.  I grabbed a packet, which didn't cost more than RM2 and Ethan was obviously happy when he saw it.
Now I give these to him as his snack.  I like to call it his "happy snack" because it makes him happy every time I give him some.  And well, in a way, we are unashamedly literally putting words into his mouth, in the hope that he will spew forth some more soon 🙂