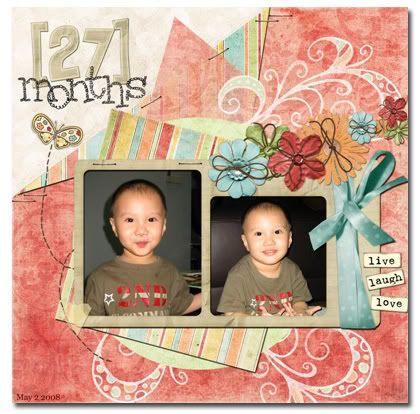 Scrap Credits
The Promise Collection from Shabby Princess Designs
Little curly alphas from Amy Sumrall
Boxed words from Chantal
Weight
The weighing scale at home shows 11-point something kilos.  His diapers are definitely getting tighter, that's for sure.
Height
Growing taller, but have not measured officially.
Teeth
I daren't put my finger inside to see.  Sixteen (or maybe eighteen): 8 incisors, 2 canines (upper), 4 pramolars (2 upper and 2 lower) and 2 molars (bottom); maybe 2 molars on the top too.
Motor Skills
Can do the tumble-turn.  He started by doing the downward-facing dog pose first, and soon he extended that to the tumble turn.  I only let him do it under supervision, of course.

Improvement seen in parent-toddler class too, where he will participate by walking around and dancing to the music.  FYI, we are currently in the process of training him how to hop, skip and jump!
Communication and Social Skills
Some of the new words/sounds he has picked up recently:

Ball

Baby

Wait wait & where where (when we are looking for a parking spot in the mall)

Tee-dee (TV)

No no no…. & oh no…

Wah! & Wow! (imitating his Stand up ball blast toy)

Oh ta (we don't know for sure if he is referring to "Otak" or "Old Town")

Apa! (dunno if he is scolding anyone, or it might be a fluke)

Oh two (from Channel 302 Astro On Demand Previews)

Nen nen & Mik

Daddy & Mommy (getting more consistent; Daddy more so than Mommy *pout*)

More thick-skinned now.  Scolding him with a firm "NO" doesn't usually do it, unless we repeat it and show that we mean it.  He doesn't cry at "NO" like he used to before too.

Getting more and more sociable.  More willing to wave hi and bye to people he meets.

Picking up on imitating/copycat skills and can follow and do the actions for certain nursery rhymes when I sing them.  His favorites are: London Bridge, 1 2 Buckle My Shoe, Twinkle Twinkle Little Star and lately he is perfecting his actions on Itsy Bitsy Spider!  Of course, it thrills me to no end that all the actions are done with the widest smile ever!
Food and Feeding
Milk intake has increased, and he can down 6oz (sometimes 7oz) in less than 5 minutes.  Love the way he burps afterward too.

Able to feed himself with less mess now.  He is quite adept at using the spoon to eat his rice, more so with his right hand, which leads us to think that he most likely is a rightie.  Sometimes though, when he finds that it takes much longer for him to eat on his own, he will manja and ask me to feed him.
Toilet Training
There were a few occasions where he led me to the toilet to indicate the need for doing his big business, and he did so successfully.  Failure rate is getting lower, and we are still working on it.  Not too concerned though, cos he has got so many adorable diapers to wear 🙂
***
Oh, by the way, there was a mini, but welcome surprise as Ethan hit 27 months.  He appeared in the Malaysian Women's Weekly May 2008 edition!  His second appearance in the magazine thus far.  Hehe…can't help being so proud of him.