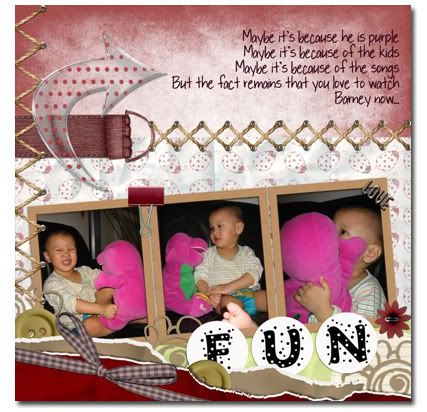 Scrap Credits
Romantic's kit from happy-scrap
Polka dotted arrow from Dúnia
Lil Ladybug kit freebie from LorieM Designs
It all happened one fine day a couple of months back, when I was keeping a baby audio CD in our TV drawer cabinet.  I opened the drawer and lo and behold, the kay-poh-chi Ethan came over, peered over my shoulder and saw a Barney DVD set.  He took it out and asked me to play the DVD for him.  His Aunty Pauline was the one who had bought this DVD set so many many moons ago, but at that time, Ethan was very disinterested in it, that's why we kept it away.
Anyway, I took out one of the DVDs and played it.  Ethan was … transfixed.  He didn't finish watching it, but he was definitely enjoying himself.  By and by, he began to participate in the activities and action songs in the DVD.  In fact, it is through Barney DVDs that he learnt the Itsy Bitsy Spider, and One Two Buckle My Shoe song, just to name a few.  He can now watch the entire 45 minute to an hour Barney show without interruption.
That's not all, he sometimes will request for his Barney soft toy too.  This toy was also a present from his Kor Kor but it had been in his cot, untouched for such a long time.  See, here he is posing with Barney, when he was a wee little baby of 5 months' old: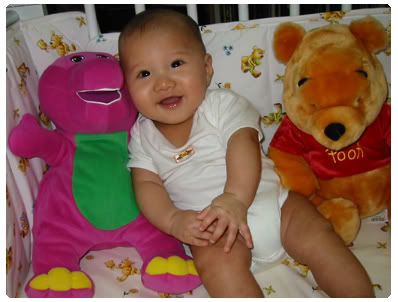 Looks like Barney mania has hit him.  There's a clip of a Barney live performance in one of the DVDs that Ethan can repeatedly watch over and over again.  He even imitates the way Barney walks (big steps) sometimes.  You know, I still don't understand the fascination of kids with Barney, but when it causes Ethan to give me a loving adorable kiss on the cheeks after the "I Love You" song, nothing can be sweeter.