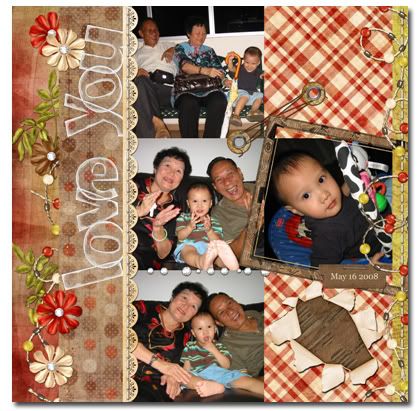 Scrap Credits
You are so beautiful add-on kit from Doreen Stolz
Template Challenge 11 from ChrissyW
Dandelion dream alphas from A work in progress 
My Mom and Dad left Penang for Ipoh today.  One week really passes so quickly, that in the blink of an eye, it's already time for them to leave.  In the span of the one week that they spent with Ethan, his fondness for both his Ah Ma and Kong Kong has grown in leaps and bounds.  And I am sure the feeling is mutual too.
Both my parents have been an immense help during the past week, even volunteering to help me clean my living room windows and wipe the TV cabinet (*so ashamed*).  Most of all though, I am impressed at how obedient Ethan is with his Kong Kong.  Remember the difficulty we faced in getting Ethan to sit in his car seat?  A few days hanging out with Kong Kong, and Ethan would willingly climb into the car seat on his own and allow my father to strap him up.  Of course, Ethan, being very much into his terrible twos and all, received a fair amount of reprimanding from his Kong Kong too.  And now he will obediently NOT go to the playground in the evening when his Kong Kong says, "No no.  Dark already.  Don't go to the playground." 🙂
It also helps that Ethan has established a morning walk routine with his buddy pal grandfather.  Oh, did I mention that Ethan has been waking up at 6:30a.m. for the past one week or so?  Anyway, he will play with his toys, watch TV, drink his milk and patiently wait for my Dad to get ready.  As soon as he sees that my father is all dressed up, Ethan will rush to the door and wait for my father to open the door.  Then Ethan will climb atop our little wooden stool in our porch and wait for Kong Kong to put on his sandals for him.  And off they will go.  On working days, this routine allows me to take my shower and get dressed for work with no interruption.
So basically, Ethan goes up, down and all around with Kong Kong.  Pull here and pull there.  At e-Gate, it's always up the stairs to the first floor to experience the wonderful view of the sea with Kong Kong.  It's no wonder that Kong Kong is all tired out every evening 🙂
However, I think the tiredness is definitely all worth it just to see that adorable face of Ethan light up every time he sees his Ah Ma and Kong Kong.
This morning, when we dropped him off at Ah Poh's place, my Mom told Ethan that Ah Mah and Kong Kong were going back to Ipoh today and immediately there was a sorrowful look on Ethan's face.  I know he understands what is being said, because as soon as Ah Mah clarified that they will be back in a week's time on Saturday, he smiled a little.  He hugged Kong Kong extra tight right before we left him off at Ah Poh's, and cried a little.  And as we left him at the door, we could sense that Ethan was holding back his tears, so we quickly said a quick goodbye and left.
Ethan definitely misses Kong Kong and Ah Ma and I am sure they miss him more.  He will surely be looking forward to next Saturday.