Last Monday morning, Ethan and I woke up nice and early, and got ourselves ready to go to the airport to fetch Daddy. Daddy had been away in the States for two weeks now, was supposed to be back on Sunday, but because of some flight delay, he only arrived on Monday morning. I had been telling Ethan about Daddy's return and I could tell he understands. When he woke up on Monday, he looked over to Daddy's side of the bed and said "Daddy!"
Anyway, off we went to the airport. The last time I took Ethan along to fetch Pete from the airport, Ethan was hardly 2 months' old. But the last time Ethan stepped foot in the airport was during our Singapore trip last year. Upon arrival, Ethan pulled my hand and headed straight for the escalator, but I told him I wanted to check first if Daddy's plane had landed…and it had! So I told him we'd only go one round up the escalator and down the stairs, but because Pete had to wait a long time for his luggage, I had to take the restless Ethan up and down a second time.
When at last Ethan saw his Daddy coming through the arrival gates, his lips curled up in the sweetest smile imaginable, he gave his Daddy a hug and a kiss and reached his hands out to him. Pete had to carry Ethan around after that. Hahaha…. Ethan kept looking at his Daddy over and over again just to check that he was really back.
It's definitely great to have Pete back again. This time round, Daddy really went overboard getting clothes for Ethan. Pete said that had I been in US, I would have bought even more!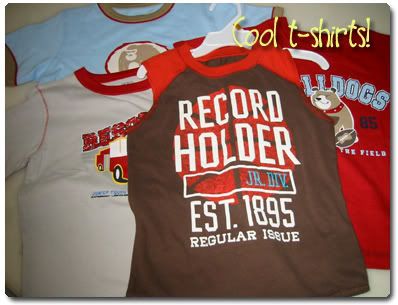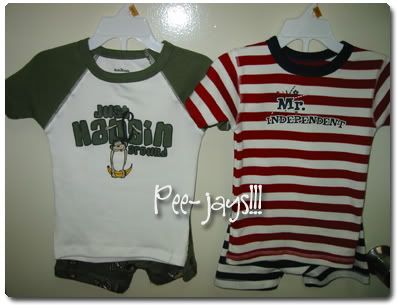 I especially like the adorable pajamas he bought. It's made snug-fitting on purpose because the material is flammable, and instead of the traditional long sleeve and long pants pjs, these were short-sleeved tees and shorts which are simply adorable and cute. Don't you think Ethan would look cool in them? Gonna try them on him tonight…
For lunch, we went to the Fatty Loh chicken rice shop in Nagore Road (because the one in Fettes Park was closed and *someone* just HAD to have chicken rice). When we were almost done, Ethan asked to get out of his baby chair and made a straining face. Immediately, I hurried him off to the toilet at the back of the shop. Took off his jeans and Itti Bitti D'lish diapers (which were still unsoiled) and there and then, it marked the first time ever I helped Ethan poop in a public restroom. Cleaned him and dressed him up again, and we were on our way. So proud of him.
And since Pete's return, Ethan has been simply overjoyed. Walking up and down escalators with Daddy, wrestling with Daddy in bed and pulling Daddy to the swimming pool were just some of the activities he indulged in.
Then when Ethan was ready to call it a night, he laid down on the bed quietly, looking at Daddy with so much love, still taking it all in that his Daddy was indeed back home.
We've missed you Daddy…and we are SO GLAD you are back home 😀