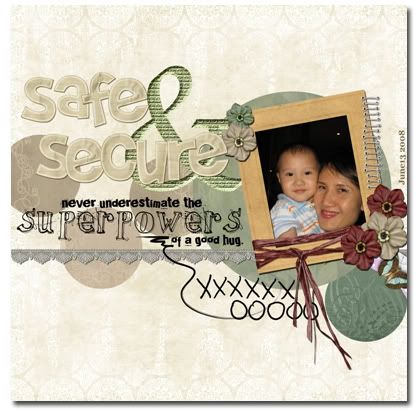 Scrap Credits
Always Welcome kit from Kelly Puddy
The Promise Collection Alphas from Shabby Princess Designs
Doodle Me Big doodles from Mikkel Paige Original
Monogram ampersand & cluster from Sugarplum Paperie
Word Art – 3 from fei-fei's stuff  
Getting Ethan to bed is a routine for us now.  He takes his shower at about 8-ish and then has his "nenno" while I dress him up in his peejays.
Then, he will get his fair share of word videos, where he repeats the words he sees.  Sometimes he prefers a good Barney DVD to while his time away.  He kinda knows that he is only allowed to watch the TV after his bath, and so when we undress him and tell him it's time to bathe, he will very obediently run to the bathroom.
Anyway, after watching his videos, I will tell him it's time for bed, and he will either walk to the room on his own and wait for us to open the door for him, or if he is in a "manja" mood, he will ask us to carry him into the room.
He will then roll around on the bed, and sometimes, he will only want Mommy to be there with him.  In this scenario, he will push Daddy away gently, wave goodbye and even give a flying kiss to Daddy 😆
Then he will want to hug me to sleep.  There were a few times where I told him to hug his pillow to sleep instead, explaining to him that Mommy will hug my pillow and Ethan will hug his pillow.  Well, sometimes it works and sometimes it doesn't.  But in the middle of the night, if he wakes up because of a nightmare, he will need to be hugged and comforted to sleep.  Even in the mornings, if Ethan wakes up and I am not in bed, he will go over to his Daddy and hug him instead.
I know he will soon outgrow his hugging needs, but I am not sure if I am ready to let go yet…because I'm sure you know how therapeutic a hug can get, huh?  I guess I'll cherish it as long as it lasts…