Yesterday, we took Ethan for his long-overdue haircut.  Daddy also needed a haircut so we thought we'd kill two birds with one stone.
Ethan had to wait for a while before his turn came, and he busied himself checking out what Daddy was getting done to his hair.  He was very intrigued watching Daddy get a haircut and when his turn came, Ethan yet again surprised me by how he has grown.  
Our boy asked to be helped into the salon's chair and there, he sat down patiently waiting for the hairdresser to give his head a shave.  The hairdresser put on the little kiddy cape for Ethan and he sat still, allowing her to work her magic.  Of course, throughout the entire process, we heaped loads of praises and commented what a handsome boy he is.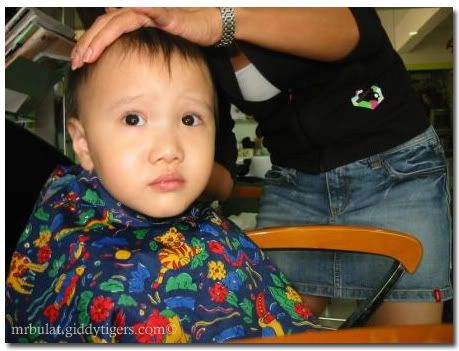 When she was 80% done, however, Ethan got restless, so I took him down from the chair and allowed him to roam around.  Then we finished off the front part of his hair with Ethan on my lap.
Such a vast improvement from a year ago, I would say.  My boy is growing into a young man now. Awww…
Here he is requesting us to "ah-purn" the door when he was ready and all set to go home.