Ethan got himself a bungalow last Saturday.  Make that "bungalow"…in inverted commas.
It was "presented" to him during his playschool session as he was having his snacks.  He was happily munching away on his biscuits and then he apparently turn around to look at me, lost his balance somehow and fell down from the bench.  Normally he would be able to break his fall with his hands, but since his hands were full (holding the biscuits), he hit his forehead on the ground, earning him a gigantic bump on the left side of his forehead. 🙁
We were SHOCKED.  As was Ethan, because he didn't immediately cry, but only after a while did he wail out loud.  We tried to put an ice pack on the bump, but Ethan would not allow it to be there for long.  After a few minutes of on-and-off ice packs, the bump subsided a little.
He looked his normal self, and was smiling away a while later.  In fact, if I may say so myself, it certainly does appear that he has become more active (and mischievous) after the fall, believe it or not.
Here's a sneak on what the bump looked like in the evening: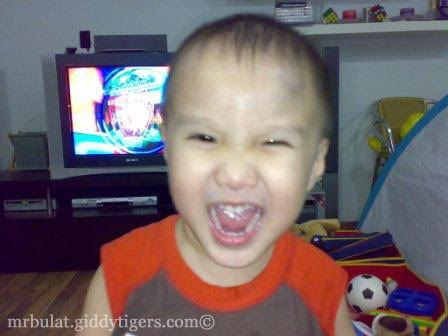 I took this picture right after THE MATCH.  The TV in the background shows the logo of Liverpool: we beat Man U 2-1!!!  Woohooo!!!  Sorry, couldn't resist that 😛