Ethan simply loves being in a hotel.  Whenever we bring him on hotel stays, we can tell he really has the time of his life!
In the recent weeks, we have had the chance of staying in a few different hotels.  When we checked into the E&O recently, Ethan immediately made himself at home in the room.
He loved playing with the oranges they provided, and asking us to turn on the TV for him, switching channels here and there, but most of all, he adored the bath tub.
He would keep saying "Tub! tub!", and it wasn't long before he figured out how to climb into the tub on his own.  There was no trouble at all getting him to take his bath.  At home, we sometimes need to chase him around the house to get him to take a shower, but here in the hotel (with a bathtub), he will willingly undress and climb in.
After his bath, and his nightcap, he still would not sleep, but instead chose to climb onto a chair and "see" outside the window.  It was raining cats and dogs that night, and Ethan was truly intrigued.  He especially like the "fan"-shaped tree, which could be clearly visible from our window.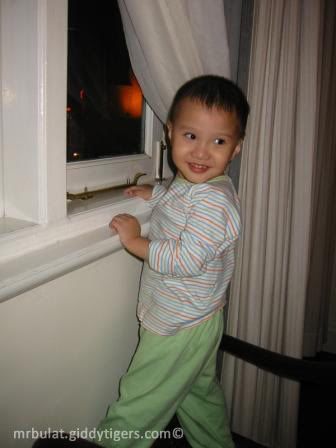 So when we were in KL a few days ago, and we stayed in Crowne Plaza Mutiara KL, where the room had a tub, we knew our boy would be really excited! 
And he was 🙂
Bubbles everywhere!!!  He even tricked Pete by calling "Daddy! Daddy!" and when Daddy came to see him in the tub, he splashed bubbles and foam all over his Daddy.  Cheeky lil fella.  I wonder if he remembers his very first trip in this same hotel about a year back…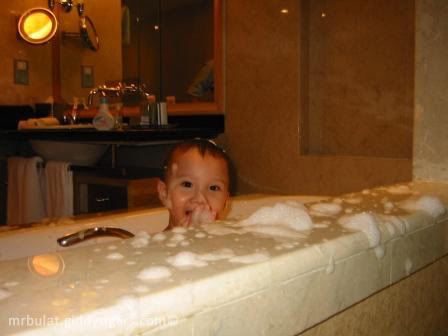 He is becoming quite the pro at using the bathtub now and he really makes full use of the tub by lying down and enjoying the bubbles, and then flipping over and kicking the water with his feet, as if he was swimming.  Then he would make waves with his arms and stomp around the tub while screaming in delight.
We think Ethan will really love it in the States, where our apartment comes with TWO bathtubs.  Well…we'll see then, won't we? 🙂