One of our primary concerns when we relocated to the States was how Ethan would adapt to the change.  For one thing, Ethan is a very fussy eater, and we were worried if he would be able to accept the food here.  So we tried our best to make the transition as smooth sailing as possible. With the safe arrival of our FedEx food shipment, we were definitely relieved, because I could now cook dishes Ethan would enjoy, like tau-ewe-bak, chicken serai and claypot chicken rice.  However, my objective is still to have Ethan try out and love a variety of many other different foods. To make him more comfy in his new environment also, we brought along a little present for him from Malaysia.  And the morning after we arrived, I took it out and asked him to unwrap it.  Knowing how much he adores alphabets and numbers, we got him a set of colorful wooden blocks.  I tell you, just seeing his face light up with excitement was enough to make my day.
Well unfortunately, a few days later, he started throwing these blocks around the apartment.  I gave him a warning that I would take them away from him, but when he kept on throwing them, I stored the blocks away one day while he was asleep.  Looks like he doesn't even miss them though. SIGH.
In the span of the past few weeks that we have been here, we have seen Ethan grow in leaps and bounds.  Not only has he become more sociable and vocal (and stubborn), he seems to have become more independent too.  For one thing, he loves to take his bath, and I attribute this to the bath tubs.  Oh, we got him some colorful foam alphabets and numbers to while his time away in the tub. Hehe.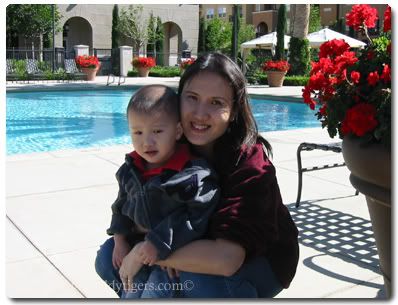 And the first weekend we were here, we had a barbecue gathering by a nearby apartment poolside.  Ethan would only eat raisins and chips though, but he sure made a lot of new friends.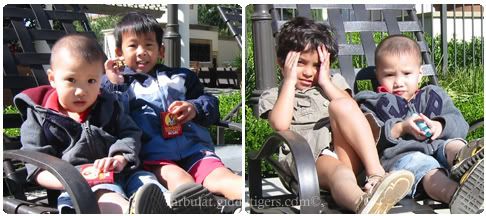 It definitely looks like our fears of Ethan having trouble adapting to life in the States are unfounded, because not only has he proven he's a tough guy, he's very resilient too.  In fact, when the weather's chilly, Pete and I are feeling really cold, I feel Ethan's hands and feet and he's warm and cosy.
That's my little man right there…  these pictures were taken a few days ago when we were out having a snack at In-N-Out.  The first picture was taken before the food came:
See how grouchy he looks?
And this second one is taken after the meal.  Ethan only had (a lot of) fries, but here's his look of satisfaction as he enjoys his pink lemonade drink: