Top on our priority list when we arrived in CA was to find a daycare center for Ethan as soon as possible.  We had a few shortlisted and as soon as we found time, we started our daycare hunt.  We wanted to get a daycare that was near to where we were staying and let's be honest, there weren't many to begin with.
I made an appointment for a short tour at a nearby daycare center, but for the price they were charging (close to USD1600 per month), it wasn't that all impressive.  Ethan did seem to enjoy himself while we were there though.
Our relocation consultant also managed to locate a few nearby daycare centers, and we visited some 3-4 of them.  Some looked okay, but others were either too far away or we just didn't have a good feeling about it.  But it certainly became clear that Ethan was VERY ready for daycare. 🙂
Then Pete googled for a daycare center near where we were staying, and miraculously found one.  We visited the place one fine morning and well, both Pete and I loved it at once.  It's a home-based daycare, with only a maximum of 6 kids.  Currently the daycare owner is looking after 2 toddlers (around Ethan's age), and a one-year old baby.  One of the toddlers is her own daughter.  Although this daycare is in a very homely apartment with rather limited space, the daycare owner, Van, has a cute little buggy (it looks like a little train with mini carriages for each kid) that she uses to pull the kids in to the park just across the road.  Best of all, the daycare is only about 10 minutes' drive away from our apartment and all meals (breakfast, lunch & 2 snacks) will be provided.
The daycare was a rather new one, and it was only gonna be licensed in a few days' time.  We decided to wait till the daycare was properly licensed before we signed up.  In the US, it is illegal to run a daycare without a license.
So last Monday, as soon as we found out that this daycare was licensed, our relocation consultant drove Ethan and me to the center to settle the billing details.  I decided to leave Ethan there for about an hour while I left to apply for my social security card.  And guess what?  He was all right!  Didn't make a fuss at all and was all smiles when I came back to pick him up. 🙂
The next day, Pete dropped Ethan and I at his new daycare in the morning.  The plan was for me to stick around till Ethan was all right with the new surroundings.  And he certainly seemed okay.  He loves all alphabets on the alphabet floor mat, he loves reading the books and playing with all the toys, and he really looks at home there.
Pete and I left for lunch that first day, and when we came back from lunch, Ethan was still busy running around.  I stayed at the daycare the rest of the day, busying myself with my laptop (thank goodness there was wi-fi there!)  Ethan hardly bothered me, and he played around with the kids and the toys.
The second day, I was with Ethan in the morning at daycare and left the daycare at lunch time, so Ethan was alone at daycare till we fetched him back in the evening.  So far so good. 
On the third day, when Pete picked me up for lunch, and when we told Ethan Mommy and Daddy would pick him up after work, he suddenly bawled!  He cried so loudly, and screamed, "Daddy!  Daddy!", while hugging Pete ever so tightly.  And then he started to cry for me too.  I simply couldn't control my tears from falling, but I hardened my heart, gave Ethan a nice big hug and reassured him that we would take him back afterwards.  In between sobs, we left the daycare center.
During lunch that day, Pete and I decided that I would take the car after lunch, so that I would be able to fetch Ethan back earlier.  And that's exactly what I did.  Boy, was he ever overjoyed to see me!
Actually, I was afraid that he would continue crying the next day when he was dropped off at the daycare, but Pete said Ethan was all excited as soon as Van opened the door and Ethan ran to play with his toys immediately.  Whew!
At daycare now, Ethan is off the bottle.  I'm trying to wean him from the bottle, and this is the perfect opportunity to do so.  I only provide a bottle of Pediasure and he drinks it from the cup.  Here in the US, the Pediasure comes in 8oz bottles, and the milk is refrigerated.  So far so good, he has been finishing one bottle at daycare every day.  At home he still takes milk from the bottle though….I'm weaning him a step at a time 🙂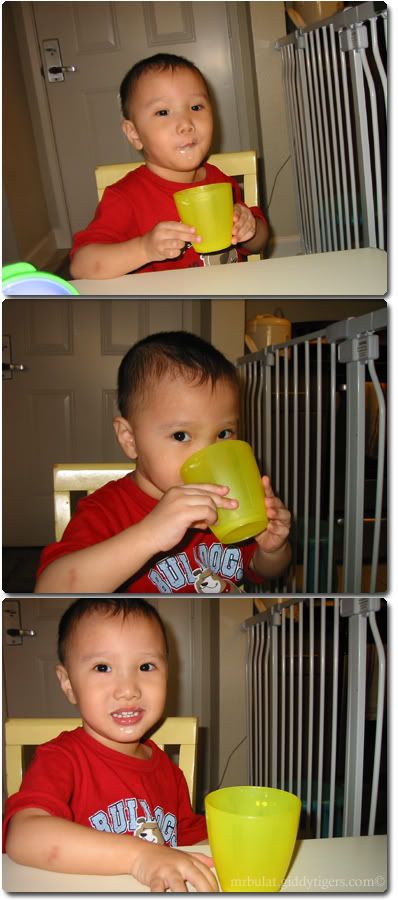 We will also be starting his toilet training soon.  Currently Ethan is able to tell me when he wants to poo, so we need to work on his peepee.
I'm also hoping that Ethan will be adventurous enough to try a variety of foods now that he is in daycare.  I've heard that many kids start eating different foods once they see other kids doing the same.
We get reports on what happened at daycare, i.e. what Ethan did, what he ate, what were his activities, etc.  I think it's a nice touch and at least it helps me know what my Mr Bulat has been up to in my absence.  And last Friday, we even got an Ouch Report, cos there was a teeny accident where Ethan was chasing another toddler around and bumped his little toe on the wall corner.  There was some bleeding and Van applied some antiseptic cream and a BandAid, but unfortunately, Ethan tore the plaster off. 😛
As for his afternoon naps, that seems to have been forgotten by Ethan.  Since he started daycare, he has not napped at all in the afternoon.  But actually, he has not napped much in the afternoon since we came to the US.
Yesterday evening, after I fetched him back from daycare, we came back to the apartment and when Ethan saw these on the table, he could hardly resist eating one.  Freshly baked blueberry muffins, just for him!
After that he had some strawberry yogurt, and I put his Barney DVD for him to watch while I prepared dinner.  A while later though, I was met by such an adorable sight: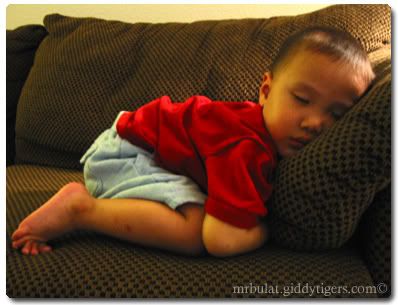 Looks like he fell asleep on the couch! 😀
Well, he needs all the rest he can get after running around and playing the whole day!  Ethan certainly looks forward to daycare now, he's say, "Friend!" when we tell him we are taking him to daycare, and sometimes he says, "Bay-bee!", referring to the one-year old baby.  He even knows how to call "Antee Van!"