This year would be the first time ever we were kinda celebrating Halloween.  Back in Malaysia, Halloween is never celebrated on a large scale, but over here in the US, everyone goes all out getting themselves garbed in costumes, carving pumpkins, and getting candies and treats ready for the kids.
I didn't want Ethan to miss out on this opportunity too, but unfortunately, on the eve of Halloween, we still had not found a suitable costume for Ethan.  He adores Mickey Mouse and bear masks, so we thought of getting him a costume along those lines, but nothing we saw caught our fancy.  Well, in the end, it was thanks to Vien who offered to loan me Belle's kangaroo costume from last Halloween.  And I promptly made arrangements to collect the costume from Jon on Halloween afternoon itself.  Thanks Vien, you're a lifesaver!
At his daycare that day, there was also a birthday celebration for Van's daughter Venice, who turns 3 the following day.  The plan was to go trick-or-treatin' after the party, so I brought along the kangaroo costume for Ethan when I left for the daycare.  I arrived for the party a little before 4:00p.m. and there were already lots of balloons floating all over the ceiling.  Guess who was the happiest?
Ethan calls balloons "booboo", so he was "booboo"ing all over when I arrived.
We had pizza, apple pie, grape juice, crackers and snacks for the party.  Ethan, however, only took a small miserable bite of the pizza slice, preferring instead to munch on cheese slices.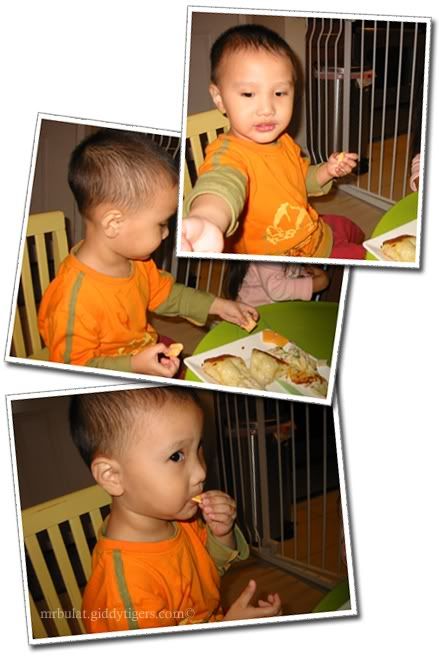 When the time came for cake-cutting, Venice put on her princess gown, complete with a crown.  Incidentally, that's what she would be dressed up as for Halloween.  I also put Ethan in the kangaroo suit, which fit him perfectly!  However, he wasn't too keen on putting the hood over his head though.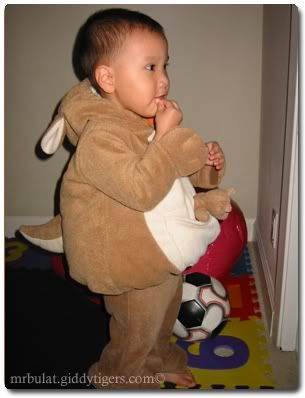 Ethan was so excited when the time came to sing the birthday song and especially when it was time to blow the candle.  He kept pointing at the number THREE candle, and exclaimed, "Three!"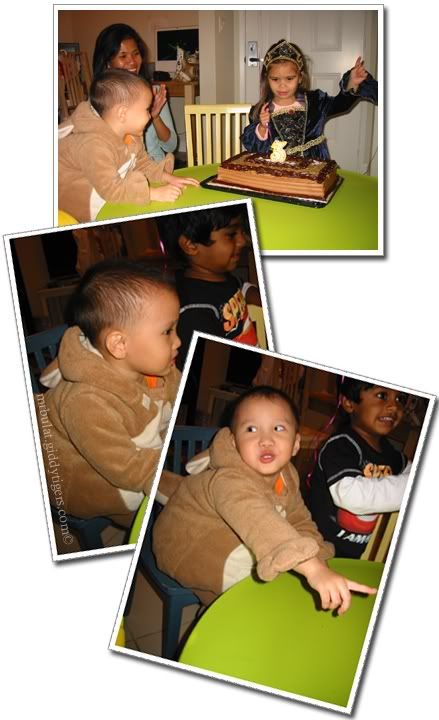 When cake was served, I wisely decided to remove his costume top, just in case he made a mess with all the cake frosting.  And I am really glad I did what I did.  Not only did Ethan enjoy the chocolate cake tremendously, his shirt front had patches of icing on it too!  I was actually surprised that Ethan ate the cake because normally, he doesn't like cake.  It must have been cos he saw all the other kids eating too!
After that we all went to some nearby neighbors' houses for trick-or-treatin'.  Most of the folks could not guess correctly what Ethan was dressed up as.  Some of the guesses were a rabbit, a bear and a dinosaur.  But one thing's certain.  Ethan had a LOT of fun trick-or-treatin'.  I think he's really happy with his LOOT, which he put in the little Mickey Mouse paper bag I picked out for him 🙂
What an utterly grand experience it must have been for him!  We both went back home to our apartment after that to wait for Daddy to have dinner.  While waiting I managed to take a nice picture of him in his costume:
And when Pete came home, we tried our best to take a shot of him with the hood on: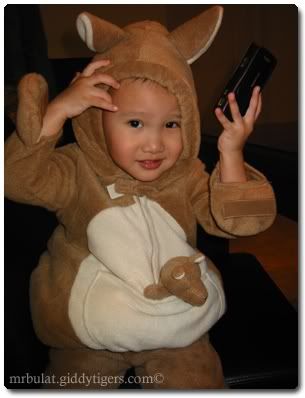 Don't you think Ethan looks adorable ?