…be sure to wear some flowers in your hair…
***
…so says the song.  But of course, we didn't have any flowers in our hair that day.  Hehe..
Instead of heading out to the malls last Sunday, we decided to take a leisurely drive to Pier 39 and Fisherman's Wharf in San Francisco instead.  I had been telling Ethan about the sealions there, and I was sure he would be fascinated by them.
The weather is kinda chilly now, so I dressed Ethan up in long sleeves, long pants and put on his new pair of Osh Kosh shoes.  By the way, the shoes only cost $13.60 (at 60% off) – is that a bargain or what?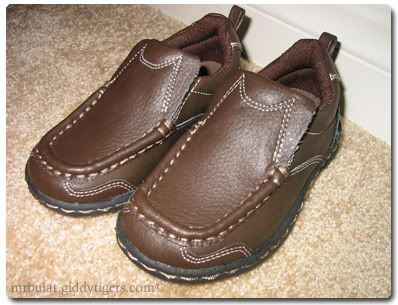 Anyway, they make him look rather big boy, don't you think?  Look at how eager he is to go "kai kai" 😛
As we buckled him up in his car seat, I put the hood of his jacket over his head, and surprise of all surprises, he didn't remove the hood immediately.  So we had a picture taken.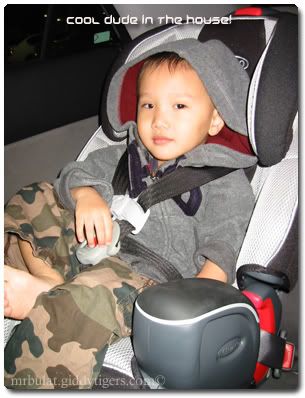 The trip to Pier 39 took only about 45 minutes to an hour, so it was not that tiring.  Once we arrived, Ethan was all excited.  He wanted to run all around, so we had to keep a close eye on him.
There were many street musicians around too, some playing the drums and the rhythmic tunes really intrigued Ethan!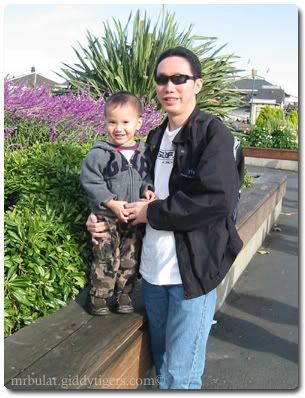 He saw this statue of a giant sealion, and a couple of kids were climbing it.  Of course, our boy had to join in the fun too.  Oh yes, we definitely had trouble prying him away from that one!
There were many shops and attractions at Pier 39, in fact, there were escalators too!  So Ethan definitely had to get on those!  We also saw a bungee-trampoline, where kids can be strapped onto a bungee rope and bounce off a trampoline.  It was for older kids though, but Ethan wanted in on the fun too.  He even tried to climb over the fence to get in.
The view was amazing, and from where we were, we could see the Island of Alcatraz.  Tried to get a good picture of it in the background (and at the same time, ensure that the people in the foreground looked good too), but it was really difficult!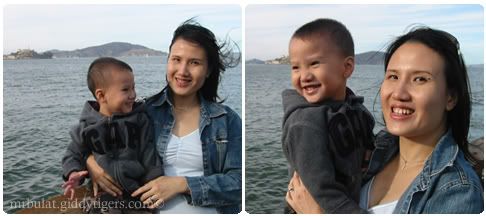 Our next stop was of course the sealions!  Ethan was very happy to see them and stood there for a very, very long time.  He giggled when we imitated the sounds the sealions made and laughed when some of the sealions fell into the water.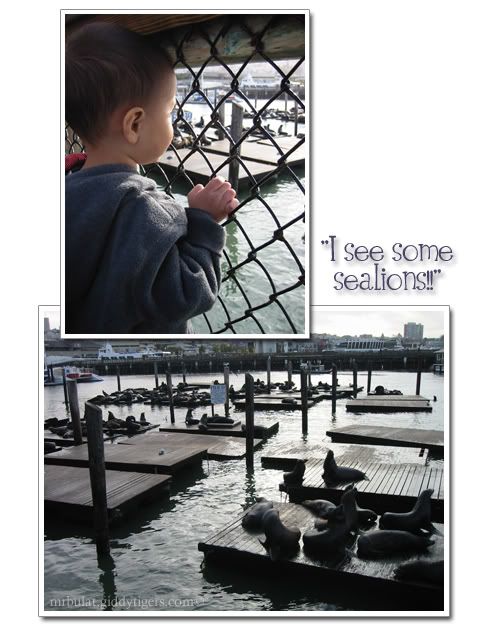 Well, we definitely had fun that day.  And to cap it all off, we all sat down for a nice meal of clam chowder.  Ethan enjoyed the chowder tremendously!  In fact, I think we should have ordered a separate bowl for him!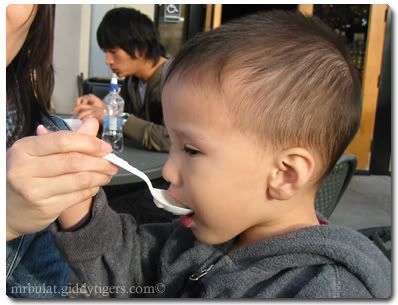 Will we be coming back again?  You bet!  And I really hope so!