I look forward to going to daycare every weekday morning now.  When I wake up in the morning, I stretch and roll around on my bed till Mommy comes and coaxes me to get up.  Then I have my drink of milk.  Most of the time, Mommy will also give me a quick shower before dressing me up.  It's rather chilly outside now, so I get to wear my long pants and sweats, which I personally think make me look cool. 
Sometimes while Daddy is having his breakfast, I will hijack some of his Frosties with milk too.  It's yummilicious!  Then I'll put on my jacket and shoes and head out the door. 
When we reach Aunty Van's place, I like to stroll up the pathway to her apartment.  Sometimes I do a hop, skip and jump too!  Lately, I have been getting delicious pancakes with maple syrup for breakfast.  I love it loads, especially cos I get to eat together with my friends at daycare.
Sometimes Aunty Van would take a few pictures and that's when I like to show how good I am at posing for the camera, see?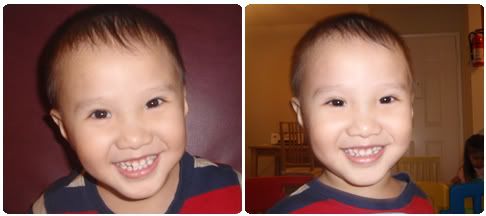 We do lots of stuff at daycare, like singing, dancing and even fun activities like bubble play and playing with the parachute!  We also do creative artwork every day, one of my favorites being the coloring sessions.  I bring home my art to show Mommy and Daddy every evening when I go home.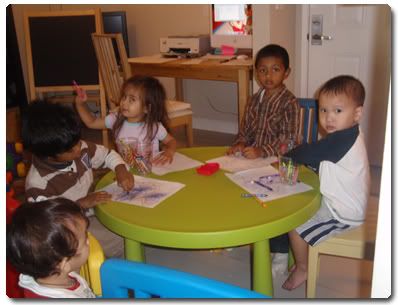 But it's not just the fun we have indoors, we get to go outdoors too!  Aunty Van will take us all in a train buggy; we all get to ride in one buggy each, and we all need to remember to buckle ourselves up first.  Aunty Van takes us to the park, where there are play areas complete with a play structure and slides.  I love it outside, especially when the weather is just nice, not too hot and not too cold.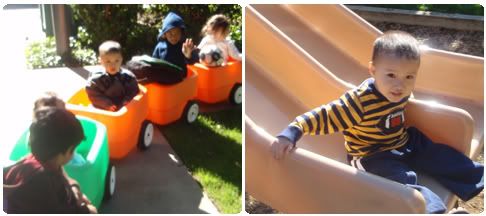 Daddy will be glad that the football training he has been giving me is not put to waste at daycare.  Why, just the other day, I got to show off my Zidane-like skills when we went to the park with the football.  Oh, over here in the US, I think they call it SOCCER.  But whatever it is, I still had tons of fun!
I've learnt a lot of new things at daycare, and I am definitely having a BLAST!  Sometimes when Daddy or Mommy comes to pick me up in the evenings, I am even reluctant to go home!