On Friday evening before we started our Christmas vacation, Ethan came back from daycare with a beautiful work of art.  Well, beautiful in my eyes, I would say.
According to Van, he had made the red Christmas stocking all on his own, with her instructions, and he had stuck all the stars, deco and cotton by himself.  Now what's a mother to do other than to proudly display it on the fridge? 🙂
The artwork on the right was also made by Ethan a few days earlier, using popcorn as snow.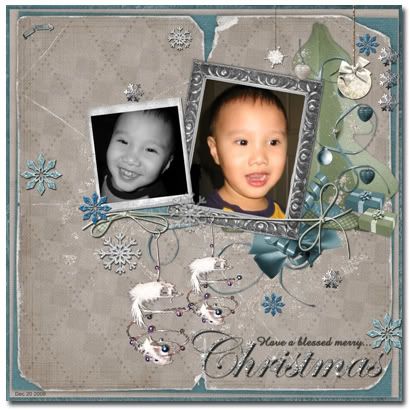 Scrap Credits
"QuickPage Glam Xmas" from Fanette
White Christmas mini kit  from Southern Creek Designs
Snowflakes from Misfits Scrapz
Christmas Bling from Lindsay Jane Designs


We're back home now from our one-week vacation, and I am so proud of Ethan for he behaved himself rather well throughout the trip.  He has learnt so much and gained so much from our trip, and I am sure the memories will stay with him forever.