On Day 3 of our vacation, woohoo….a bright sunshiny day greeted us in the morning!  We got ready right away and had breakfast at the hotel.  Initially we wanted to walk to Disneyland, because our primary reason for booking that hotel was its close proximity to Disneyland.  But in the end we decided against walking because although we definitely had the energy to walk in the morning, the walk back to the hotel at night could be tiring as Ethan might want us to carry him all the way, … or it might rain at night…
So we drove again, paying the $12 for parking, which I must say is $12 well spent!
As soon as we had parked the car (there were more cars today – must be the good weather), and alighted, Ethan ran happily towards the pickup point for the tram to Disneyland, shouting "castle", "Mickey" and "Goofy" all the way.  But since there were more people today, we had to wait a bit for the tram to arrive.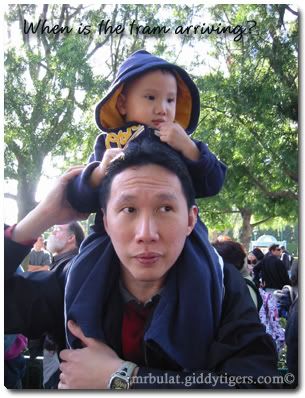 We headed straight for California Adventure Park, and coincidentally saw that Pluto was having a "meet the fans" session, so Ethan had a picture taken with Pluto, all on his own.
We then decided to rent a stroller for the day (cost us $12), because for some reason, Ethan appeared to be more clingy.  It certainly appeared as if he was *conserving energy* for the day ahead, having experienced the previous day which was filled with so many activities.  He would walk a bit and ask us to carry him around.  At times, he would only want "Mommy carry!"
We managed to catch a few shows in California Adventure Park, including Playhouse Disney – Live on Stage, and then we moved on to "a bug's land".  There were a few kiddie rides there which we could enjoy, in fact, Ethan also enjoyed the queue in line, I'm sure!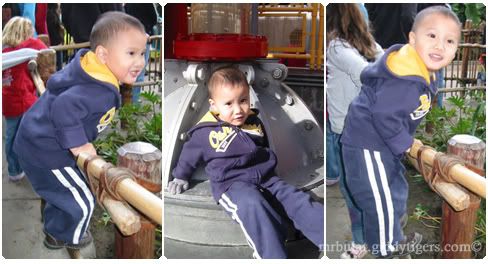 Here we are taking the ride in Heimlich's Chew Chew Train, where I had to ride in the carriage in front and snap pictures.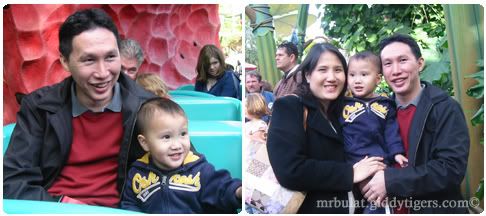 We also soared through the air in *flying boxes* known as Flik's Flyers and guess what…Ethan wasn't in the least bit afraid.  On the contrary, he was smiling all the way!  Well, he ain't afraid of heights and he also ain't afraid of getting dizzy, cuz when we rode in the spinning ladybirds in Francis' Ladybug Boogie, Ethan was thoroughly enjoying himself!  I think the adults were the ones who got dizzy!
Next, Ethan wanted to take a ride in the bumper cars, Tuck and Roll's Drive'Em Buggies.  Our boy was exactly 36″ tall, so he met the minimum height requirement, but he would also need a chaperone to ride with him.  Since pregnant mommas were not allowed on this, Pete took Ethan, and that went really well.  Look at how much those two enjoyed themselves!
The bumper car ride was really a breakthrough for Ethan because it proved that he did not need both Mommy and Daddy to be with him on the ride.  We are so proud of him!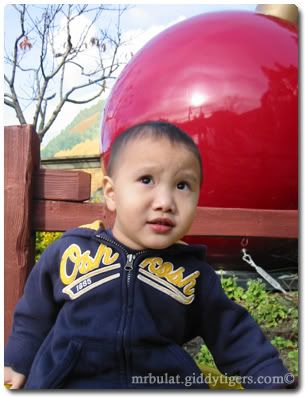 On the way out from "a bug's land", we stopped by Princess Dot Puddle Park, where Ethan had a field day splashing around a gigantic faucet.  Actually it's like a water fountain maze, and believe you me, it was really tough coaxing him to leave that place!
Wanna see how it is done?  Check out the video…
California Adventure Park has a lot of rides for bigger kids and adults, and I remember having the time of my life on the California Screamin' roller coaster and the Maliboomer (vertical launcher), but since (obviously) I can't do any of that right now, and neither can Ethan, we just took a nice walk round Paradise Pier and checked out the sights.
Yep, our boy decided it was not really fun to spend the day in the stroller, and preferred to be riding the "Daddy horse".  We made use of the stroller to cart Ethan's bag instead.  Hah.
We also stopped by the "Brother Bear" area where we had wanted to watch "The Magic of Brother Bear" Totem Ceremony, but little did we know that the Redwood Creek Challenge Trail was situated at that same area.  So no….we didn't find the ceremony we wanted to watch, but instead Ethan had fun on the rock slides, the rope bridges, the hollow logs … you get the idea…. of course, Daddy was the designated person to follow him all around!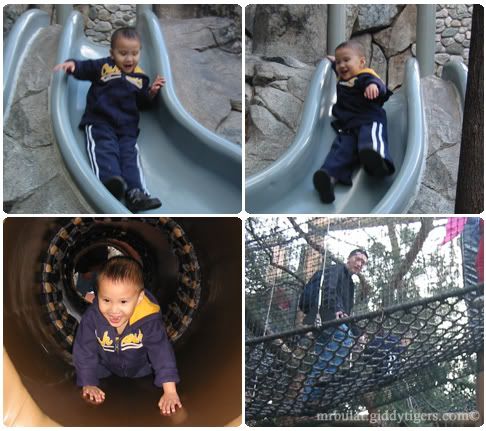 Here's a photo of Ethan with the Brother Bear figure right outside the Challenge Trail.  Yeah, he asked for a photo… and he wanted to *touch* the bear paw.
At this point, Ethan was already getting restless and kept asking over and over again for "castle" and "Mickey!", so we hopped over to Disneyland Park.  On the way to the park, we decided to snap a few photos with the giant CALIFORNIA alphabets outside California Adventure Park.  It wasn't dark yet, so we could get quite good pictures.  And also the letters had been festively decorated in the Christmas mood, with Christmas colors.
Ethan immediately ran towards the letter O, for what reason, I do not know… then he noticed that A had a Goofy figurine on it, so he went, "Goofy!  Goofy!", pointed and ran towards A.  There was a short queue of people waiting to take photos, so we had to wait.  And then….Ethan suddenly noticed C had Mickey… so he ran to the other end to have a picture taken with Mickey too.
Trust me when I tell you we have countless photos of those alphabets in our memory card 😛
Well Disneyland was immensely crowded that day, and we hardly wanted to get in line for any of those rides.  It was a good thing we rode on It's a Small World twice the day before, because the queue now was unbelievable!  We stopped by Toontown for a bit, but left after a while because it got so crowded!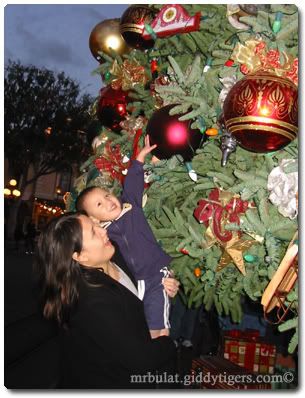 Then we walked back to California Adventure Park for the Pixar Play Parade, which was really very interesting and wonderful to watch.  In the middle of it, I turned to check on Ethan's response on one of the floats, and realized that he had fallen asleep!  He had literally drifted off to dreamland in Daddy's arms!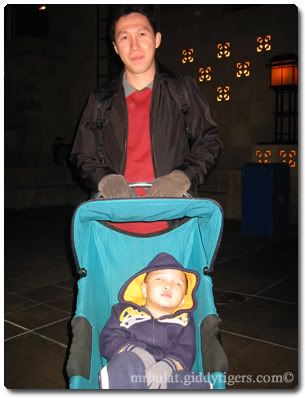 So after the parade, we carried Ethan into the stroller and walked back out to Downtown Disney to that same souvenir shop for some souvenir shopping.  It was much easier to shop when Ethan's asleep anyway.  Unfortunately we were not allowed to bring the stroller out, so we had to park it somewhere first and strong Daddy had to carry Ethan. 😛
He slept for quite a bit and when he woke up, he seemed to have renewed energy.  We bought a few souvenir items, namely 2 snug-fitting pajamas for Ethan and some squeezey toys, just because they were Mickey Mouse related!  Hehe…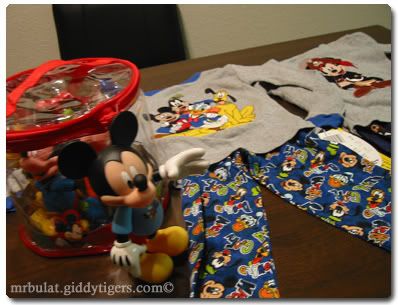 By the way, you see those toys in the round plastic packaging?  Those are Ethan's latest bath toys now…
Well, anyway, after the souvenir shopping, we walked back to California Adventure Park for a superb clam chowder dinner, which Ethan really enjoyed!
We had one more parade to watch and that was the Disney's Electrical Parade, which saw Ethan clapping and waving his hands happily.
Then our final stop for the day was back at Disneyland to witness the awe-inspiring "Believe…In Holiday Magic" Fireworks.  The crowd was HUGE, and Ethan sat atop Pete's shoulders watching intently, going "Wow!" as the spectacular display unfolded before his eyes.
It was definitely another tiring day for our boy and once again he fell asleep right away after his sponge bath and warm milk when we reached the hotel.