We were checking out of the tiny hotel in Anaheim today!  Yay! 😛
We got ready for breakfast as usual, and wonder of wonders, Ethan actually willingly ate the waffles I had made!  The hotel breakfast area had three waffle makers, and although I had diligently queued up the past two mornings to make hot waffles, he didn't want them till today!  Maybe it's because the waffles I made on the third day looked way more pleasing to the eye.  Anyways, I'm so glad he loved them!
We then checked out at about 10:15a.m. and drove further down south to San Diego.  It took us about an hour and a half to get to SeaWorld, right before lunchtime.  Ethan was very excited about SeaWorld, we could tell, because we'd told him he would get the chance to see whales, dolphins, sharks, fish, sealions and other sea animals.  Of course he repeated the names of these animals to the tee.  Even as we were walking in the parking lot towards the SeaWorld entrance, Ethan was very happy to see seagulls and kept chasing after them, giggling and shouting loudly, "Bird!  Bird!"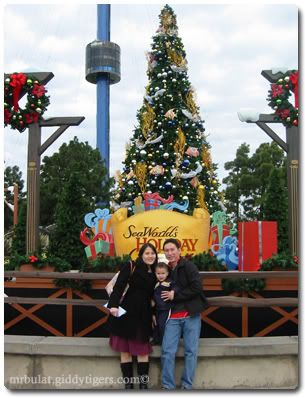 We noticed SeaWorld had a new section built since Pete's and my last visit there some years back.  They now had a children's play area called Sesame Street Bay of Play, and guess what Ethan said as soon as he saw it?
"Elmo! Elmo!"
So we stopped by for a spell, and Ethan enjoyed running around for a bit, and he even rode the Elmo's Flying Fish ride with Pete!  Little did we know that this was going to be one of many rides he was gonna take!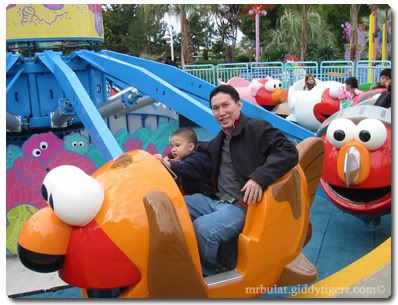 We had to hurry on to catch some shows in the other areas in SeaWorld, but we promised Ethan we would be back to see Elmo the next day (we bought the 2-day park tickets, see?).
So before lunch we managed to catch two shows:
a 4-D Sesame Street presentation (where we had to wear those special glasses).  I was afraid Ethan would not be used to it, but he was all right, and during some parts of the show, he reached out his hands to *grab* the things he saw too!

"Believe" at Shamu Stadium – This was the famous killer whale show that everyone would not want to miss.  We are so glad to share it with Ethan and he really had a good time.  Oh yeah, he learnt to say "Shamu" too! 🙂
We had lunch at one of the restaurants in SeaWorld, Shipwreck Reef Café, and I was pleased to see Ethan having a very healthy appetite that day.  He had hot dog (just the sausage, which he walloped in record time), fries (but of course!), chocolate milk and crackers.
There was a nearby pond too, and after lunch, Ethan was happy just to look at and interact with the ducks swimming in the pond.
We caught a few more other shows after that, including of course the Dolphin Discovery show.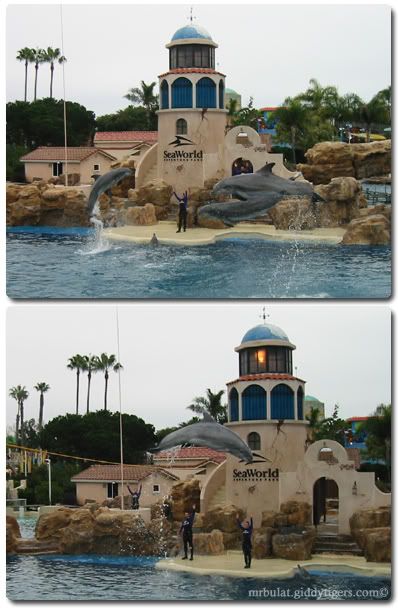 We also watched Clyde and Seamore's Risky Rescue, which showcased a sealion, an otter and a walrus.  That was pretty entertaining.  Other than sea animals, there was also a Pets Rule!  show which had dogs and cats and pigs.  Because it was the Christmas season, there were also a couple of shows themed especially for Christmas, namely Clyde and Seamore's Night Before Christmas and Shamu's Holiday Night.  We watched both, though it practically rained throughout the Clyde and Seamore Christmas show.  We had to take shelter viewing some indoor exhibits after that while waiting for the rain to stop.  'Twas a good reason anyway for Ethan to see his "polar bears" and "penguins". 🙂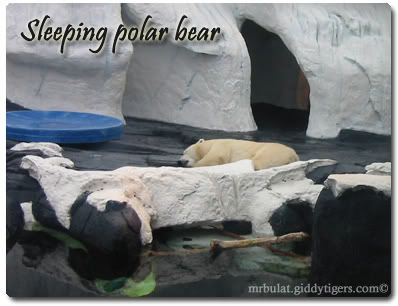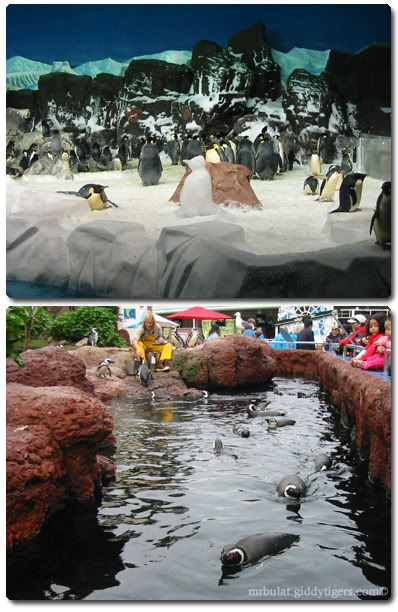 Thank goodness the rain stopped, because Shamu's Holiday Night was really an unforgettable experience.  The sight of whales swimming gracefully to the strains of Christmas music beautifully played live on the saxophone and accompanied by a choir of magnificent singers was enough to wow us all. 
Ethan was also taken in by all the magic and music and he began dancing around and clapping to the music, but when Silent Night was played, our boy eventually fell asleep! LOL
We called it a day after that spectacular show and drove to a nearby Chinese eatery to tarpow dinner back to our hotel.  We checked into Ramada Limited and we loved our room at first glance: there was a king-sized bed in it!  Ethan fell asleep at around 9p.m. to recharge for the next day.