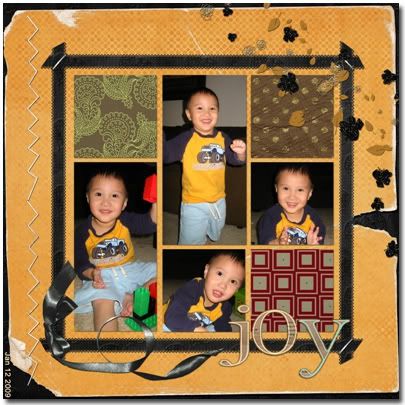 Scrap Credits
Template 45 from Liz Designs
January Free Mini kit from Enchanted Studio Scraps
Freebie Janvier  – Partie 1 kit from Scrapmalin
Project 365 add-on freebie alphas from Kristen Rice, K Studio
Yesterday, Ethan's daycare caregiver had to take her daughter for a doctor's appointment in the morning, so I became designated SAHM for the first half of the day.  The night before, I had logged in to complete whatever could be done workwise, so that my workload would be less for the next day, in view of Ethan being around.
As usual, Ethan and I woke up about the same time, and as he watched Mickey Mouse Clubhouse, I made some pancakes for breakfast.  Ethan loves pancakes with maple syrup.
After Pete left for work, I gave Ethan a shower, and got him dressed.  He wanted to play with his Leapfrog fridge magnets, so we spent some time forming three-letter words then.  I am amazed by how much Ethan has learnt and he is able to follow voice instructions and got all the three-letter words correctly.  He is also very patient in finding the letters to form the words.
Ethan wanted to play with his Lego set next, so we opened up the box and began constructing some stuff.  I put on some praise and worship songs for kids while we played.  And sometimes when a particular tune amuses him, Ethan would get up and dance or march.  Thing is, he would INSIST I march along with him.  Not very funny seeing a pregnant momma marching round the coffee table, I'd say! 😛
I would also teach him the actions to some of the songs and he naturally would be VERY amused and follow suit.  It's so cute to see him perform the actions.
We also read some books (his favorites are the Animals and ABC books) and then he wanted to watch the penguins.  So I put on Happy Feet for a while.
Ethan was a good boy throughout the morning, and he really didn't give me much trouble at all.  I've said it once and I'll say it again…I could really get used to being a SAHM!  The fantastic thing is Ethan was in a really good mood the whole day long too, and I'd like to think it's because of the extra wonderful quality time I spent with him in the morning. 🙂