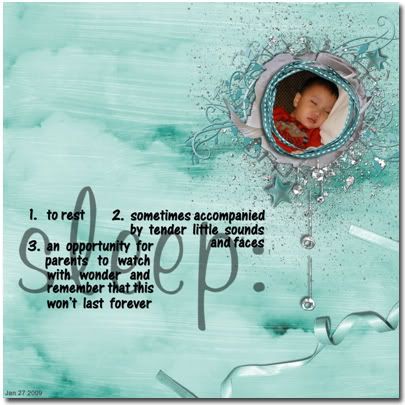 Scrap Credits
Le petit prince a dit cluster frame from Elodie
Toy Store – Partie3 paper and ribbon from Digital-Crea
Elegant word art (sleep) from Bethany

It all started about 2 weeks or so ago. Ethan contracted high fever, up to 39.5°C. I had to stay home with him to monitor his condition and at times it was pretty scary, because the fever fluctuated up and down throughout the day. We then decided to take him in to Urgent Care, where we could just walk in and not have to make an appointment. But that meant waiting for quite a long while, and after the doctor's checkup, and we had gotten the prescription filled at the pharmacy, there was the arduous task of force-feeding Ethan the antibiotics. Not a pleasant scene at all, I can assure you.
In addition to his fever, Ethan was also coughing and thus, he was finding it difficult to sleep and rest at night. He would kick and scream and refuse to sleep soundly, resulting in both Daddy and Mommy not sleeping well either.
But thankfully, he is better now. It is always a joy to see him back to his usual cheeky and perky self.
Being at home with Mommy for that extended period resulted in an uphill task in getting him ready for daycare after that. He would grumble and throw a big tantrum and became extremely whiny when we had to leave the house in the morning. And that's not all…one day after we picked him up from daycare, he decided to make a big fuss about not wanting to leave the car, crying and screaming his lungs out in the car garage. And when we finally got him back home to our apartment, he started crying again. Although we put our foot down and warned him sternly that he was not to repeat it, it hurt our hearts to see him behave that way.
We were quite certain it was Ethan's natural reaction to finally realising he was going to be a big brother soon, and we figured it was his way of trying to get our attention as much as possible.  And we were at our wits' end as to how to overcome it.
Then the weekend came…and amazingly, Ethan slept through till way past 9:00a.m. both on Saturday and Sunday! When he awoke, he was cheerful, smiling and had happiness written all over his face. He also had his afternoon nap. And added plus was that he began to have a better appetite for food!
So it looks like Ethan has finally inherited Daddy's and Mommy's traits of loving to sleep. Well, a growing mind and body definitely needs more sleep, and it is obvious that sufficient sleep makes for a happy toddler. And certainly, no one is complaining! 🙂