Last Saturday (Valentine's Day), after lunch, we decided to take a drive to Monterey Bay. It was an hour and a half away, and although the weather was yoyoing between rainy drizzly, and sunshiny, we decided to go anyway. Pete had been to Monterey before, but Ethan and I had not.
Ethan, as usual, fell asleep almost immediately while we were driving on the freeway, and only awoke when we arrived at Monterey Bay.  The place was jampacked, and it took us quite some time before we found a parking spot by the side of the road.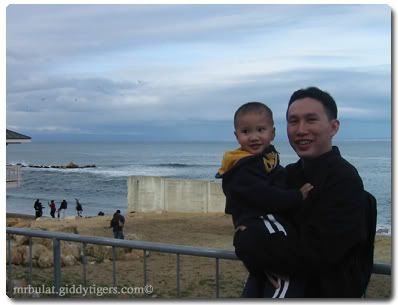 Ethan, in his just-woken-up state, of course wanted to be carried, and refused to walk on his own.
Monterey Bay is a very picturesque place, and the streets were filled with shops bearing familiar names like Ghirardelli, Thomas Kinkade and Nestle Tollhouse, among others.  There were also little stalls serving clam chowder samples in small cups to passers-by. Of course we couldn't resist trying them! 🙂
The view by the sea was simply breathtaking!  Ethan was also fascinated by the telescope but it was way too heavy for him to handle anyway!
We didn't go into the Monterey Bay Aquarium, but we did walk along the exterior part of it.  It had wooden benches on wooden platforms overlooking the sea.  Our boy had the time of his life, making rhythmic sounds on the wooden platforms with his tapping feet and oohing and aaahing at the waves below.
We could tell that Ethan was intrigued by the beach and the waves and the seagulls, and it wasn't long before he pointed and said, "I wanna go down there!"
Believe it or not, it was Ethan's first time ever at the beach, looking at the waves coming into shore.  Look at him displaying his excitement!  He laughed out loud every time the waves came in and didn't seem at all afraid! 🙂
(Note to self:  need to take Ethan to the beach when we get back to Penang!)
While we were walking back to our car, we passed by the Ghirardelli chocolate shop, and I noticed every one was eating a piece of chocolate as they walked out of the store.  Curious, we walked in, and the sales person was indeed handing out samples!  We each got a piece of milk chocolate with peanut butter filling chocolate square – Ethan got a piece too!  
Ethan was never much of a sweet tooth, and I thought Ethan would take one bite and pass the rest of the chocolate to me, but I was dead wrong 😛
He bit off piece by piece till he was all done!  Psst….that's the first time he has had peanut butter… (peanuts are still off limits!)
It was definitely an enjoyable time for all of us, for Valentine's is all about spending it with the people you love…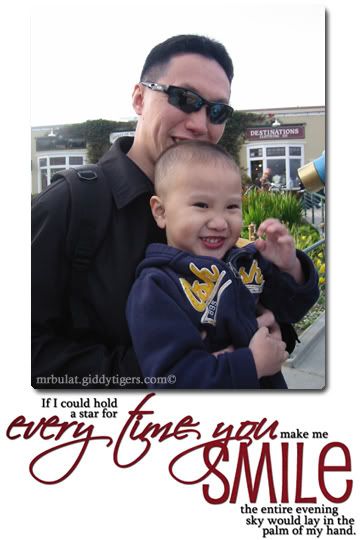 Credits
Elegant word art (every time you smile) from Bethany
Mag-papier5 from Freebie Janvier  – Partie 5 kit from Scrapmalin