After promising Ethan for such a long time that I would take him swimming "when it gets warmer", I decided to *take the plunge* last Sunday afternoon, when I saw that the sun was shining and the weather was warm.  I could see a few people sunbathing too, and the pool looked absolutely inviting.  The day before we managed to get Ethan a new swimsuit (shorts and shirt), so I was quite eager to see him in it too.
However, when we reached the pool, I put my finger in it to test the temperature and retracted it immediately!  It was freezing COLD!!  I asked Ethan to feel the water too, and he said, "It's cold!"
So what to do?  We decided to try the heated jacuzzi nearby instead.  For months, we had seen people enjoying the bubbly jacuzzi, but we had not tried it ourselves yet.  Pete switched on the timer on the jacuzzi and Ethan and I stepped in.
He said excitedly, "Look at the bubbles!", and man, was the jacuzzi relaxing!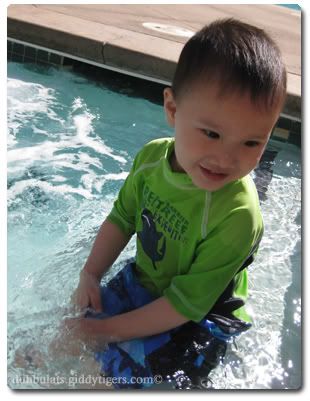 It was a win:win situation for all: Ethan had fun splashing around, and Daddy and Mommy experienced some therapeutic water massage!