Last weekend marked our first one alone with the kids.  My parents headed for home on Friday morning, and Pete and Ethan sent them off at the airport.  The plan was to drop Ethan off at daycare after thar, but when Pete reached the daycare, Ethan started crying loudly and pitifully, asking for Mommy all the while.  So Daddy took Ethan home and we all had lunch at home.  Ethan had FOUR steamed paus!!! (normally he only takes two)
Then after lunch, we managed to persuade him to go to Aunty Van's, and he happily went.
Hmmm…we think his initial crying incident at daycare could be due to his insecurity.  He must have been afraid Daddy would leave him, after he said goodbye to his Ah Ma and Ah Kong.  Well, I believe he certainly misses his Ah Ma and Ah Kong very much, because he keeps asking where they are, and I have no doubt the feeling is mutual…Never mind Ethan Boy, time passes very fast (especially when you're having fun) and you'll see Ah Ma and Ah Kong very soon back home in Malaysia!
So what else did we do last weekend?  Apart from the usual grocery shopping routine, Daddy, Mommy and Ethan got our haircuts.  Ethan can now sit independently on those planks they place on salon chairs, for kids…so proud of him, and he got a nice haircut too!
On Sunday I made Ethan some star-shaped pancakes, which he walloped with aplomb!  Then he requested from circle-shaped ones too. LOL!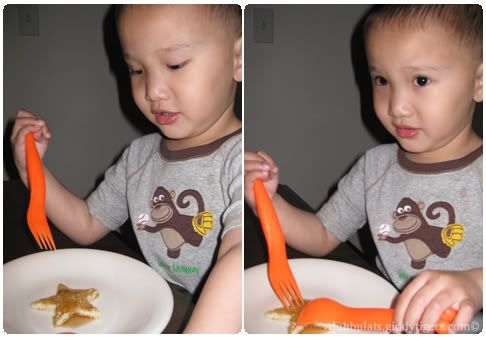 Looks like the first weekend alone for our little family went rather well.  At times, we would expect it to be challenging handling two kids, without the additional two pairs of hands from my parents when they were here, but we'll manage… 🙂
…..somehow.