Much to my delight, Ethan has developed a keen interest in reading books lately.  He would ask us to read to him all his books over and over again, and although sometimes he impatiently wants to turn the page, he would be all smiles when we read to him.  Unlike his behaviour before when I tried reading to him, where he would push away the book disinterestedly, Ethan now voluntarily brings his books to us.
We do not have many story books here with us in the US, so instead of pathetically reading the ABC or Numbers book repeatedly, I decided to get him some new ones.  Lately I have been trying to get some books online and it's addictive, really!
I was so glad when this came in the mail today.  Eric Carle's The Very Hungry Caterpillar has got to be one of the most popular children's books around today.  And when Ethan refused to bathe yesterday, I showed him his surprise *treat* to be enjoyed after he took a bath and off he willingly went.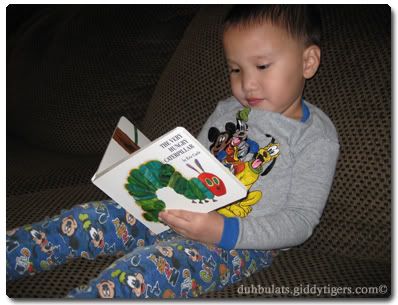 After his bath, he remembered the book, and happily asked me to read to him.  All through the book, he was eagerly pointing out the things he saw.  The moon, the sun, the caterpillar…he even counted the fruits like strawberries and apples.
And when we read that the caterpillar turned into a beautiful butterfly, Ethan exclaimed, "The End!"  Sure meant a whole lot to me when he turned to me and said, "I like it Mommy!  Thank you Mommy!"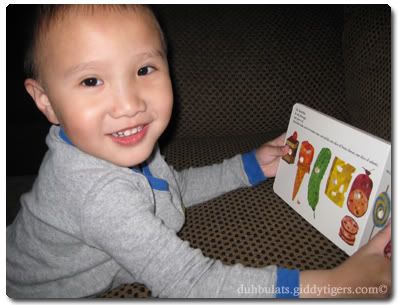 Later that night, I read the book a couple of times to him again, including using it to calm him down when he was throwing a tantrum.
I'm sure we will be reading about the hungry caterpillar again this evening.  And I can't wait to share other wonderful stories with him.