During the recent long Memorial Day weekend, we made a trip to Gilroy Gardens again.  This time, the theme park was really packed.  All the rides involved a long wait in line.  We had wanted to go for the paddle boat ride in the *swans* but the line was REALLY long!  So we decided to go for the little sit-in boats instead.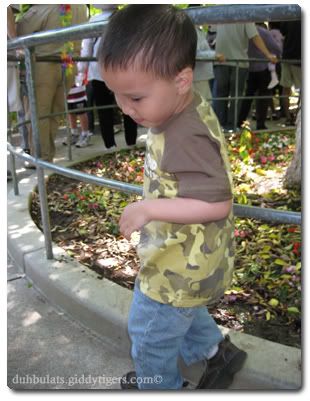 Pete waited with Hannah (who was asleep), and I waited in line with Ethan.  There was no sign indicating how long we had to wait though, which made me rather uncomfortable.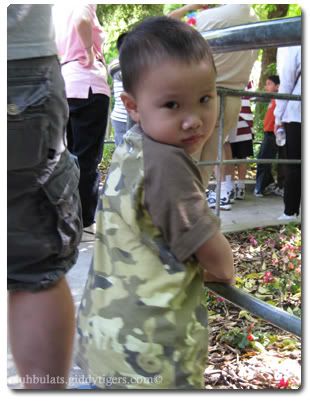 All through the wait, Ethan was complaining, "I wanna ride the boat, Mommy!" and all the time I had to reassure him that our turn would come soon, telling him that the line was moving, and distracting him whenever possible.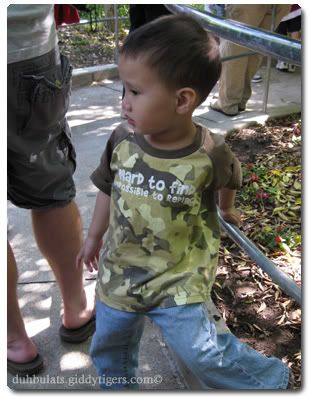 And when he was tired of standing, he would either climb the railings or ask me to carry him. 
Finally when our turn came after about a 30-minute wait, Ethan was all smiles 🙂
I could tell he was enjoying the ride tremendously, checking out the scenery, while oohing and aahing.
It was as if the long wait was truly worth the while.
…and after the boatride, we had a well-deserved cool treat too!  Nothing beats enjoying a yummilicious ice cream cone in the warm sunny weather!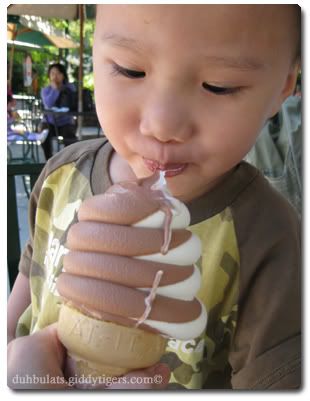 I'm sure Ethan agrees wholeheartedly too!  Look at the satisfaction written all over his face!