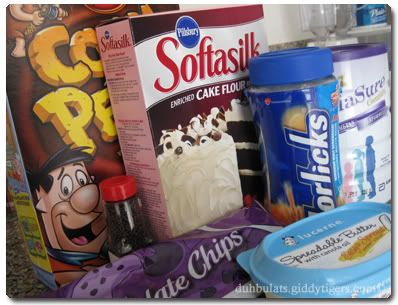 Yesterday morning, I had the perfect opportunity to do some baking because Hannah decided to sleep in till 11:00a.m. or so.  I had seen these yummy Milo doggie cookies baked by Angie and Hooi Ling, and after I was done salivating, I found out that the recipe actually originates from Happy Home Baking's Horlicks doggie cookies recipe!  Since the only Milo I have here is the 3-in-1 variety and hence not suitable, and since I have some Horlicks brought from Malaysia, I decided to bake some of these cute doggie cookies.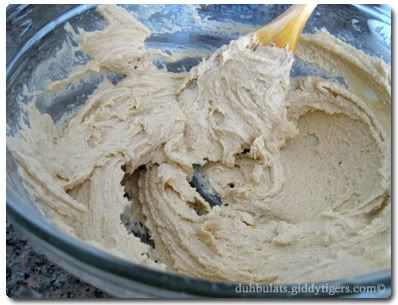 With no electrical mixer available, I relied on my trusty wooden spoon where I had to manually stir and mix the cookie mixture.  It look okay by my standards, not lumpy or anything!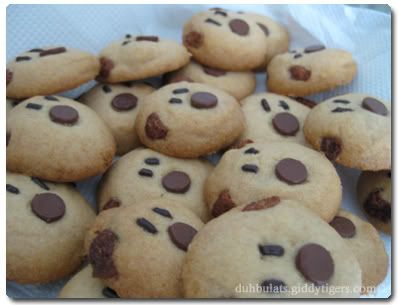 The first batch of cookies turned out way bigger than I had imagined.  I must have used too much cookie dough.  They looked more like fat doggies…hehe… No Koko Krunch here either, so I used Cocoa Pebbles instead, resulting in smaller doggie ears. LOL
I managed to bake 39 cookies in all, although the recipe had estimated 48.  Nevertheless, the cookies smelled fantastic!  And they were very crunchy too…tasted a lot like those typical Chinese New Year cookies, y'know?  Good thing about these cookies is that it's not too sweet, with the sweetness coming only from the chocolate chips!
I love baking homemade cookies because I'd know exactly what goes into them.  With Ethan loving cookies so much, it's a fantastic idea to make nutritious cookies for him.  And like Happy Homebaker whom I got the recipe from, I would want to find that ideal cookie recipe with the right balance of nutrition, wholesome goodness and great taste too!
These Horlicks cookies called for some milk powder too, and I'd used Pediasure for that 🙂
Ethan made quite a mess last night when he ate doggie cookie after doggie cookie.  The crumbly nature of the cookie caused that, and he preferred to bite off a little at a time, and lick the chocolate chip (nose of the doggie)!