Ethan asked for pasta for lunch today, so we decided to go try this place called Pasta Pomodoro.  Coincidentally, they have a Kids Eat Free promotion on Tuesdays, so it was great because Ethan doesn't really eat much.
The kids' meal came with a drink (either milk, soda or apple juice), a main course and chocolate sundae for dessert.  Here's Ethan enjoying his milk…
He wasn't at all interested in the meal we ordered for him, however.  I ordered Easy Cheesy Pasta, which was like mac-n-cheese with conchiglie (shell pasta).  Instead, Ethan asked for what Daddy was having: Frutti di Mare, i.e. spaghetti with mussels, clams, shrimp, calamari, garlic, tomato sauce.
Excellent choice, I'd say!  It certainly did not bother him that it was slightly spicy too!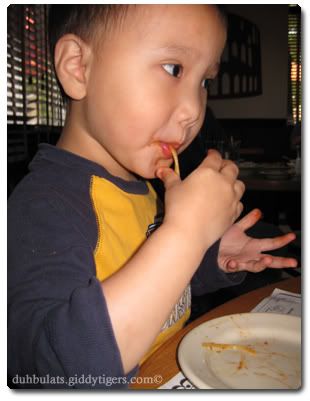 He finished his entire plate, then gulped down the whole glass of milk and then tucked into his chocolate sundae dessert.
And when we were done with lunch, as we were heading towards the car, he told me this, "The pasta was good, Mommy!"  He had never ever said that before. 🙂