A little less than a month ago, we (literally) packed our bags and left our San Jose apartment.  I admit that I felt a little sad to leave the place, but honestly, I didn't have much time to dwell on it because we really had to hurry through all the packing.  Coupled with the fact that little Hannah decided to attain her personal milestone of rolling over on that very same day we were to leave, we virtually had to pack while making sure she was safe 🙂
I think Ethan had no real inkling as to what was happening when he said goodbye to his friends at daycare though.  He was still all jovial and boisterous. 
And with all the rushing, we managed to make it to SFO and checked in about ONE hour before takeoff!
It was also our first time flying with a stroller, and both the stroller and the infant carrier had to be stored separately in the aircraft.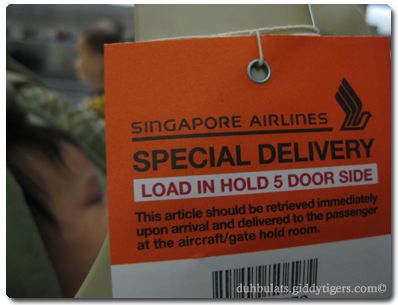 This time we managed to get the front row seats because Hannah was provided with a bassinet.  Front row seats means more leg space for us and more running-around space for Ethan!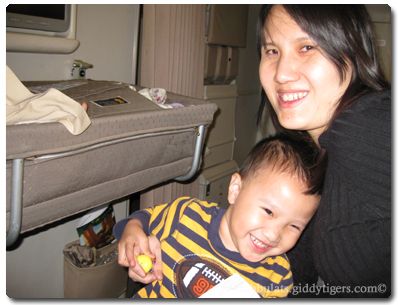 I couldn't resist this adorable photo of Hannah fast asleep in the bassinet.  When I first put her there, she did not sleep long because (I think) she felt cold.  Later on, she fell asleep in my arms and then I put her in the bassinet with her blankie.
And during our short stop in Hong Kong for refuelling, I carried Hannah around in my sling, sans stroller!  Check out her rosy cheeks, a result of being exposed to warm weather, I think.
The journey home was a lot easier than we had anticipated.  Ethan made himself busy with whatever he could find, and Hannah … well, let's just say I have mastered the art of changing soiled diapers in turbulent weather!  She's also exclusively breastfed, so no worries about bottles, powder and hot water!
Our little family is safely back home in our home in Penang now.  And trying our very best to adapt. 🙂