It's been long overdue but it's finally here.  Last week, I prepared porridge for Hannah, just like I did for Ethan previously. I used organic red rice, washed it and oven-dried it. (I guess I chose red rice because it is not so starchy)
Then I ground the rice in a dry mill till the consistency is that of a powder form.
I used just one or two teaspoons to cook the porridge and the remainder of the powdered red rice is stored in an airtight container for future use.
Hannah's porridge has yummy stuff in it too.  For her first time, I chose familiar tastes like carrots and potatoes.
Steamed and pureed carrots, and steamed and fork-mashed potatoes, that is.  I usually prepare them in bulk and freeze the rest in ice cube trays, like so: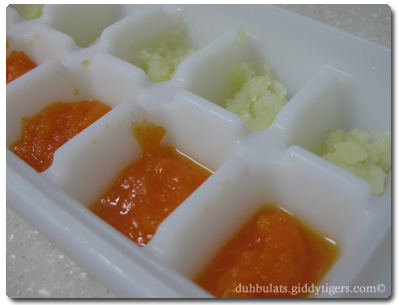 This way, it makes it easier on subsequent days when I cook her porridge.
I mix the powdered rice with some hot boiled water, throw in the food cubes and put this mixture in a small claypot.  I put this claypot in a water bath in the slow cooker and let it cook.
Sure seems like a lot of trouble cooking some porridge, but it's truly worth it when the *customer* smiles eagerly when the dinner tray is placed in front of her, and happily eats the porridge cooked with love.
Sometimes she tries to grab the spoon and feed herself too!