So good we had so much fun that Mommy very nearly forgot all about the photos we had taken!  …and that was like three whole weeks ago!
Our main prerogative was of course to see little baby Caitlynn (ain't she sweet?):
But apart from that, we (both adults and kids alike) certainly had fun!
Here's the customary shot right before we left Penang.  Everybody's wide awake and all excited.
We made our first detour in Taiping and had lunch at one of Daddy's all-time favorite chicken rice stall.
Hannah's looking rather happy despite the fact that she can't taste the chicken rice yet.
And Ethan is all smiles, because he too, like Daddy, LOVES chicken rice.
Next stop: Ipoh.  We broke our journey here and had a pit-stop for the night.  Took the opportunity to have the ngah choy kai too.  Somebody looks really hungry…
And here she is again….still yearning for food…
The following day, we headed for KL, and checked into our hotel, much to Ethan's enjoyment.  Despite the fact that we didn't get to stay on the 18th floor like he wanted, he adapted really well to the 17th floor too.
And this is one of the reasons why….actually this would be the MAIN reason.
Hannah wanted in on the fun too, but let me tell you, it was rather terrifying, because she tried to stand and play with the bubbles just like her brother!
The kids also got to meet up with their cousins…it's so heartwarming how the boys can play together now.
It didn't take long for Ethan to bond with Collin.  In the hospital where we visited Aunty Pei Gee and Caitlynn, both Ethan and Collin were busy *spreading* the cheer around.
And the following day, when we met up with cousin Jonathan, Ethan and Jonathan were like best buds!
Jonathan was wailing and complaining when it was time for him to leave!  And the sweetest thing was that Ethan ran over and gave the crying Jonathan a hug! (awwww…….)
We also had good food during our vacation.  The hotel room comes with buffet breakfast, and the spread is really good.
Poor little Hannah could only look on as we ate.  So I decided to introduce papaya to Hannah.  You be the judge as to whether she likes it.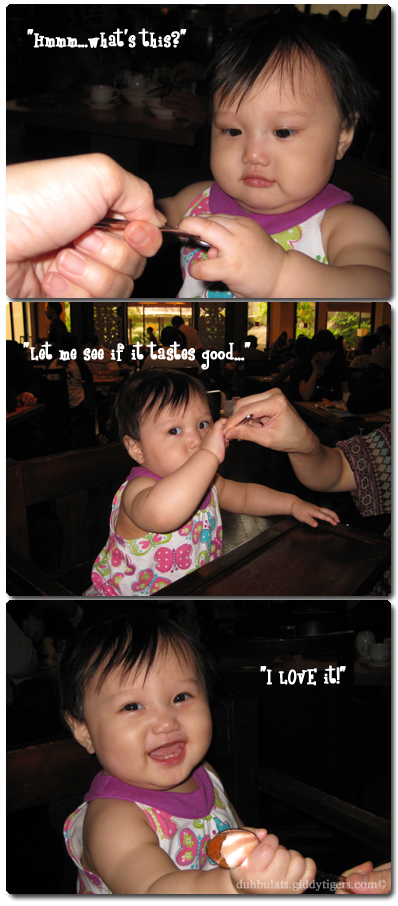 Holidays always come and go in a blink of an eye, and before we could even say "IKEA", we had to pack up and leave. (we did go to IKEA though…)
Here's Hannah posing for the camera in her dress.  Ethan calls it "Hannah's pretty dress".
On the way home, my girl discovered that she didn't have to look straight at the back window all the time.  She found out that, hey, if I lifted my head and turned around, I can see Mommy!  Peekaboo!
We certainly had an awesome vacation, and we can't wait for the next one!