During the 3-day weekend before Hannah's actual birthday on March 2nd, we made a trip down south to have a birthday celebration for Hannah.  Our trip was also to celebrate the kid's Pauline Kor-Kor's housewarming.
Both of Hannah's grandparents made the trip to KL for her first birthday celebration, and we are really happy and honored that they could come 🙂
We also ordered full moon gift packs for everyone, because during Hannah's full moon last year in the US, we didn't have those full moon delicacies then.  So we decided to have them for her first birthday instead. 
The birthday lunch was at Italiannies The Gardens, and everyone arrived on time..good thing too, because we were all really hungry then.  Hannah also wasted no time in checking out the menu…
Unfortunately though, she pulled the menu from the table too quickly and the porcelain plate that was on top of the menu went crashing to the floor!
(Pssst….yes, that's the Coach Resort I was carrying :))
We took the opportunity to take a few pictures with the birthday girl before our food came.  Here's Hannah with her 2 grandmas.
Hannah wasn't really herself though, and felt a little listless and tired, because the poor dear was still coughing and had thrown up a couple of times the night before due to the forceful coughing.
Ethan, though, was not interested in taking photos at all.  Instead, he preferred to fill his rumbling tummy first….with BREAD!!!!
Notice how he painstakingly peeled off the crusts…
He almost finished our entire plate of bread slices, and then he still had space in his tummy for his spaghetti marinara.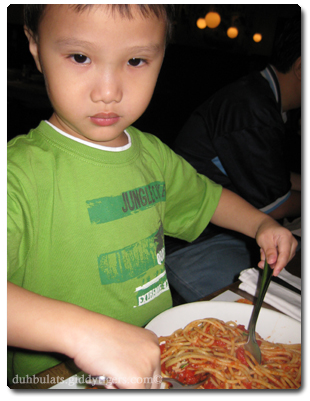 Meanwhile, Hannah enjoyed herself being carried by Ah Ma and Ah Kong…doesn't she look comfy? 🙂
She enjoyed herself till she fell asleep!  Look at her comfortably getting her beauty sleep in the stroller we rented from Midvalley.
Meanwhile, the kids were all going hyper, running around and taking pictures everywhere…
…and besides we needed to buy some time to get the birthday girl all woken up and fresh for the cake-cutting.
I ordered this adorable birthday cake from Swee San.  I wanted the elephant at the top because Hannah really LOVES elephants.  When she takes her bath, she absolutely needs to hold and play with her elephant bath toy.  If I offer her something else, she would flatly refuse it.
Love the details on the side of the cake too.  It's a marble cake with fondant all over.
Ethan very willingly volunteered his services to *help* Hannah blow the candle on the cake, while Hannah looked on in confusion. 😛
The cake was rich and absolutely delicious, but because Hannah had not been introduced to eggs, butter and other stuff in the cake yet, I baked her her own special cake, just like I did for Ethan's first birthday last time.
This one's a carrot, banana and pumpkin cake, without milk, eggs, butter and sugar.  First, she hesitated when I fed her a slice…then she opened her mouth and took a bite…
…and then she wanted to feed herself…
Looks like it's a HIT, baby! 🙂
After a very fulfilling lunch, we headed back to Pauline Kor Kor's condo to open the birthday presents.  Again, Ethan had volunteered to help Hannah open the presents.
The initial plan was to allow Hannah to choose the present she wanted to open and then Ethan would help her open them.  But you know kids, there's bound to be some grabbing involved.  And the birthday girl was also very determined to get her way!
Hannah received lots of lovely gifts, among them a beautiful crocheted dress from her Ipoh Ah Ma and Ah Kong.  The dress is handmade with love from Ah Ma.  We asked Ethan to display the dress.
…and Hannah to pose in it…
Ethan himself also gave his little sister a present.  He knows she loves elephants, so he gave her this:
Here are some of the PINK vehicles Hannah received too.  We got them in pink to deter the boys from playing with Hannah's toys….errr…don't think it worked…
All in all, a very enjoyable and memorable birthday celebration.  Happy birthday little Hannah! 🙂