Many many moons ago, our visits to the malls were only for shopping, movie-watching and (sometimes) eating.  Now, with kids, our trips to malls are for (mostly) window-shopping, eating and, more often than not, include visits to certain *sections* in the malls where the kids can have a go at the rides.
Here are some shots this blogger-mommy managed to snap whilst my kids were having fun.
Hannah *driving* a red car next to Mr Bear: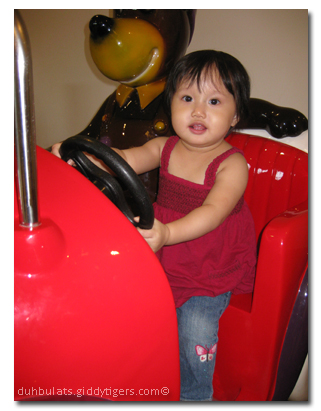 My kids LOVE the little merry-go-round.  Ethan loves to high-five us as he goes around and around…look how cheeky my boy looks!
And Hannah's favorite is the purple horsy.  I think it's so adorable the way she hold's the horsy's ears, instead of the handles provided!
There are also some rides where both Ethan and Hannah get to ride together, like in this red convertible.  Here's a short video I managed to take:
Ethan and Hannah have also enjoyed driving their own kiddy cars…see how cool they look?
Ethan had a go with the go-kart car, and Hannah got into a car that could be controlled remotely, by, who else but, Daddy! (by the way, the band-aid on Hannah's forehead was because she had a small ouchie when she fell and hit her head on the cabinet earlier that day).