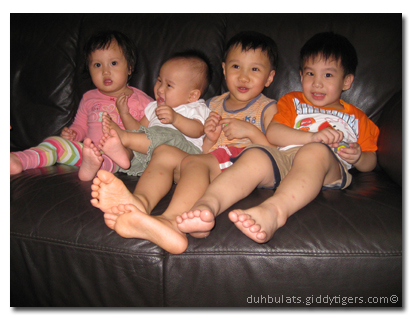 As the eldest among all his cousins, Ethan's role as an influencer is reinforced each time he meets up with them.  Of course, it goes without saying that he gets daily practice by being a role model for little Hannah. 
Hannah adores and admires her brother.  She follows his actions and his words and looks up to him like any girl would look up to her big brother.  He is her idol, and Ethan…well, he basks in all that admiration.
Ethan's influence does not end just there.  When his younger cousins are around him, they tend to gravitate towards him and follow his every move too.  Not long ago, I witnessed his cousin Jonathan, learn how to jump, just by watching Ethan.  His cousin Collin also followed exactly what Ethan did when he last visited us a few weeks back.
Big brother.  Role model.  And superstar to his sister and all his cousins.  Ethan has really come a long way from being Mr Bulat. 🙂