Chinese New Year is upon us again, and as we completed our usual round of shopping, we included a box of Mandarin oranges too.  While Mommy doesn't really care much about eating Mandarins (for fear of getting a sore throat), our little Hannah proved that she's Daddy's little girl when she shares her love for Mandarins with her Daddy.
She would ask for "orange" in such a sweet way, it really takes a LOT of willpower to say no.  Sometimes she will even choose an orange on her own and ask to "share with Daddy".  Daddy will peel the orange and make sure it does not have any seeds before giving a small piece to Hannah to feed herself.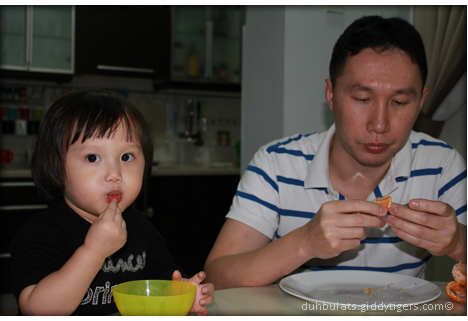 Such is the determination of our little almost-two-year-old girl.
I've had to limit her intake of Mandarins though, and thankfully she does obey us when we put our foot down.  Unfortunately, she caught a cough today and will be off Mandarins till she's better.
But don't you think the sight of Daddy sharing an orange with little Hannah is adorable beyond words? 🙂