My little boy turned FIVE on January 31st recently.  And I still can't believe how much he has grown!  I look at pictures of him from a year ago, and the difference is so vast!  He has grown physically, mentally and spiritually, and I can't even begin to express how proud I am of him.
I could tell he was really looking forward to turning five.  Before, he refers to himself as a "medium boy" but he tells us that once he turns five, he is a "BIG boy" 🙂
So where did we take our big boy for his birthday?  After we picked him up from school, we went to one of our favorite Japanese restaurants for lunch as a family.  Then we headed to Golden Sands Hotel in Batu Ferringhi, where there was a kids activity center called AdventureZone.  Admission was only RM20++ per child (since it was a weekday), and adults need not pay if accompanying the kids.
AdventureZone had something like an obstacle course for the kids, and gigantic slides that were NOT for the faint-hearted.  See how scary those slides looked?  We only went on the colorful one and the blue one.
For Hannah, there was a little play area specially designed for kids aged 4 and below.
But of course, she wanted to do whatever her brother did…
Actually we were allowed a duration of 2 hours in AdventureZone, but the kids were very reluctant to leave…in the end, we left after spending about 2.5 hours there.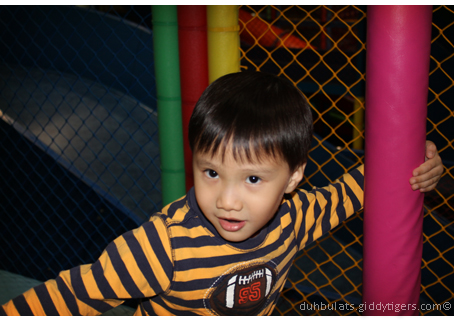 AdventureZone certainly tired us all out, for not only were the kids exhausted, we adults also had a good workout chasing after the kids.  Errr…. well maybe it was just the adults who were exhausted…
One thing's for sure though, we sure worked up a HUGE appetite and we headed for dinner at Chili's in Gurney Plaza.
Birthday boy making like a "moose" when I asked him to pose for a picture…
And how old are you now, Ethan?
Because it was his birthday, Ethan was given a complimentary chocolate brownie sundae, complete with a candle, and the crew sang him a birthday song too!
And then later that night, he opened up his presents from us.
This one's from Hannah…
…and this one's from Daddy and Mommy.  We gave him something he had been hinting he wanted for the past month.  Ethan is very interested in all things planets, outer space, solar system, and the Earth.  And his expression was simply priceless when he unwrapped the gift from us.
"Wow!!!  It's the PLANET thing!!!" 🙂
Happy Birthday Ethan!  You're a BIG boy at 5 now! 🙂