About a week ago, Ethan's school organized a Literature Night for all the Kindergarten-1(K1) students.  Apparently this is an annual event for just the K1 kids.  It was held on a Saturday night and there were 2 classes of K1 kids involved.  Unfortunately Pete had to miss this rare opportunity because he was away on a business trip.
The rationale behind having a Literature Night is to celebrate literacy amongst students, and also it is tradition that there would be short presentations from parents/siblings/grandparents who were sporting enough to volunteer.
Initially, because I knew Pete would not be around, I intended to give Literature Night a miss, but then I discovered that it would be only for K1 and next year, Ethan would not have this chance again.  Plus, he kept on telling me that he would also be performing with his class as Narrator 1.
He said, "Mommy, Teacher said I am Narrator 1 because I can read SOOOOOOO well." And then he beamed with pride.
How can I say no to that?
So I checked with my Mom and asked if she could accompany us to Literature Night, and I was so grateful she said yes.  Even though she had to rush to Genting Highlands the next morning, she still came all the way from Ipoh to lend her help and support.  And for that I am eternally thankful. 🙂
Ethan was SO excited in the days leading up to Literature Night and kept giving me a countdown as to how many more days it would be  to Literature Night.  Here he is, all ready for Lit Night, and impatient for us to leave the house.
On the way to his school that evening, he kept telling me that he had to arrive BEFORE 7:00p.m.  Well, of course we arrived on time, and the event was going to start very soon too, because everyone was incredibly punctual 🙂
Here's Hannah posing for the camera before Literature Night started.
…and with Ah Ma too:
Ethan and his classmates getting ready for the Chinese presentation: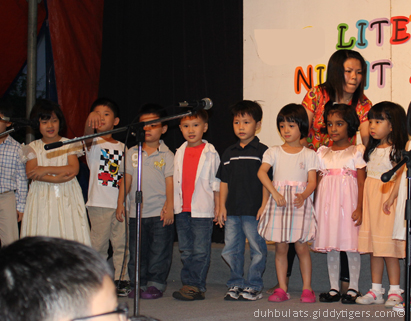 …and Ethan doing a spectacular job at being Narrator 1.
Ethan's class did a rather ambitious performance in the form of a Readers' Theatre.  His class teacher chose the story Skyfire by Frank Asch.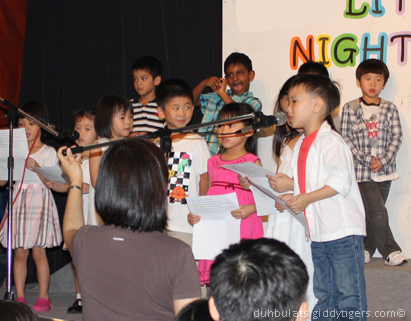 Some of the kids gave very good recitals of poetry and song presentations.  And Hannah had a good time watching the presentations too.  She even sat close to one of Ethan's classmates, Marcus, to watch. LOL
When it was time for our presentation, we headed out to stage as the "Three Generation Quartet" (Grandma, Mommy & Kids).  We were supposed to sing a two-song medley comprising Do-Re-Mi and This Little Light of Mine, but halfway through Do-Re-Mi, the mp3 stopped playing.  Nevertheless, as the saying goes, "The show must go on"…so we continued singing Do-Re-Mi till the end.
Later on, when the school principal managed to make the mp3 work, we were asked to present the whole medley again, this time with no glitches.  Hannah more or less *grabbed* the mic from me so I was left without a mic for some time.  She even asked to go up to the stage to *sing again* after we had come down from the stage. 😛
Errr…pictures and video of our presentation are with a friend of mine, who has not passed me the downloads yet. 😛
All in all, a really enjoyable night.  And Ethan had a really great time.  So glad he managed to experience this night.