When we heard that Liverpool would be playing Malaysia as part of their Asia Tour 2011, we wanted to take Ethan to the match, but still, we were not sure if he would want to go.  We told him that it was going to be noisy, very hot, and the match was going to be a whole 2 hours.  He thought for a while and then he decided he wanted to go.
We enlisted the help of Allan Aku, Pei Gee Ah Kim and also Ah Mah, who had travelled all the way from Ipoh to take care of Hannah for a few hours while the three of us went for the match.  We took an LRT from the Sungai Besi station, which was only a station away from the Bukit Jalil station.  It was Ethan's first time ever on the LRT.
He was having a little cough but not once did he complain that it was hot or crowded.  He asked for a snack before entering the stadium.
He only kept asking when the match was gonna start.  You see, we'd arrive in the stadium about 1 hour and 45 minutes before kickoff..and it was a good thing too, because a little later and we would not have been able to get seats.
We didn't bring any scarf or banners, but we were approached by a Standard Chartered representative to provide our contact numbers and in return we would get a Liverpool poster.  So that's what Ethan held during the singing of the Liverpool anthem, You'll Never Walk Alone.  I also taught him to sing the "Liverpool…..Liverpool…." tune 🙂
Ethan taking a catnap 45 minutes before the match started.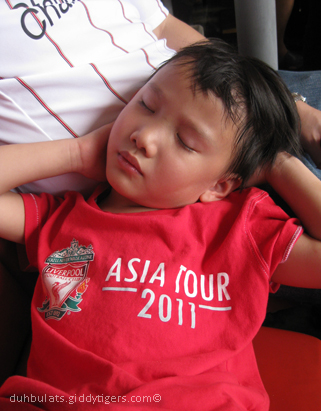 Throughout the match (especially during the first half), Ethan kept asking us when the goals would come.  And when they did, he cheered as loudly as all of us.  I'm sure he wasn't disappointed with the score 🙂
Tired though we may be, we had to rush back home to Penang after the match.  Both kids, especially Ethan, were very tired too, for they slept through almost the entire journey.  Thanks to Daddy's safe driving (not to mention FAST), we arrived home at about 2:00a.m.
Well, if you're wondering why we had to rush back so soon, there's a very good reason, and here's a sneak peek…
For more pictures from our Liverpool Asia Tour 2011 match, please click here.