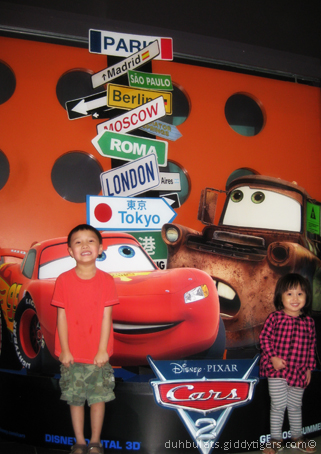 Last Friday, a day after the new movie Cars 2 officially opened in our local cinemas, we took the kids to watch it at Gurney Plaza.  Ethan had been reminding me a week ago to book the tickets online.
"Mommy, have you booked the tickets for Cars 2 yet?"
Alas, I discovered that online booking would only be available 2 days before the movie date.  I had book and pay for the tickets via e-payment ticketing, because there were no more seats available through the regular online reservation system (where we reserve and pay upon ticket collection).  Thankfully, and to Ethan's HUGE relief, we managed to get the tickets.  Ethan even had the chance to choose the exact seats he wanted!
On the day itself, we had to drop by Poslaju first before going to Gurney Plaza.  All along the way, we'd hear:
"Daddy, why is it taking so long?"
"Are you SURE we can reach Gurney Plaza by 4:30p.m.?"
"This is going to take forever!"
"Why are we not at Poslaju yet?"
"I have been talking and talking and talking, but we STILL have not reached!"
"See?  I *told* you it will take a long time!"
"Mommy, what time do you think we'll reach?"
Yes, he can be quite he drama king…
FINALLY, we arrived at the cinema at about 4:10p.m., 20 minutes before showtime.  We still had time to visit the restrooms, get some popcorn and get our tickets…and also some time for the kids to run around a bit.
It was certainly an enjoyable movie, both for the kids as well as for the adults.  I would watch it again in a heartbeat 🙂
Ethan, of course, was glued to his seat and was absolutely transfixed by the movie, while Hannah was busy hopping up and down on her seat, eating popcorn and drinking water.  Towards the end, Hannah got restless and tried to get some shuteye, but when that did not work, she attempted to walk up and down the stairs on the aisle, even inviting me to come along with her.
"Mommy, I wanna go outside"
"No Hannah, the door is closed."
"Let me see..!!!"
Suffice to say, it was quite a challenge, but a good one at that.  It was a great family date that Friday, and we were all tired but thrilled at the end of the day.
Here's a charming little photo of Hannah, taken when the boys were at the loo, before we left for home..
Ooooh…notice the store that will be opening soon? 😀