It was a Sunday on December 4th when our long-awaited family vacation was to begin.  Both Ethan and Hannah had been eagerly looking forward to this day for weeks, and I had told them that they would need to get up extra extra early that morning, for our cab would arrive to pick us up to the airport at 8a.m.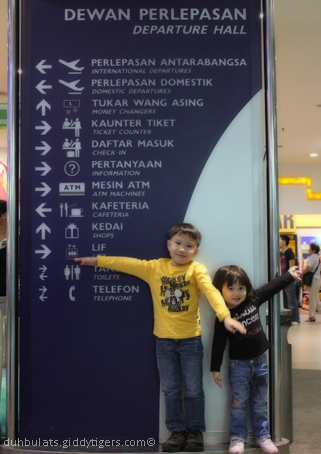 Well, miracles DO happen when the kids excitedly got ready and did not dilly-dally.  We got to the airport well on time and even had time to grab a quick breakfast at McDonald's in the departure terminal first.
It was another short wait for our plane to arrive, but you know…the kids got restless and kept asking, "Why is our airplane not here yet?", "When are we boarding?", and the like.
We'd redeemed airplane tickets using our Krisflyer points (finally), and it was an exciting occasion for the kids because I felt this was the time they would both remember they were in an airplane together.  The last time Hannah boarded a plane, she was only 4 months' old, and could only lie down in a crib!
The kids occupied themselves with complimentary doodle pads from SilkAir and drank some milk and juice that was served, and before we knew it, we had already landed in Singapore.
Here's Ethan taking a whiff of the yummy samsui chicken we had for lunch at Soup Restaurant in Terminal 2 Changi Airport.  It was to be the first of many chicken rice meals he would enjoy in Singapore…
Our agenda for the first day was to make our way to our friend's house, and pretty much have a free-and-easy time and rest.  But when we arrived at Bernard & Pei Ling's place, Ethan and their son Joel began bonding almost immediately, playing Nintendo Wii and didn't want to rest at all.
Little Hannah, who felt a little left out, decided to try her hand at some Legos instead.
Later that evening, we took a walk to the nearest MRT station (about 15 mins away) and took the MRT to the Marina.  We had dinner around that area and proceeded to take a stroll around the harbor.  We could see Marina Bay Sands in all its glory, with the Singapore Flyer close by.  We were armed with umbrellas because it was drizzling, and sometimes raining too.
Hannah appeared to be a little jealous because Ethan and Joel were walking together, and she felt left out, so she was a bit whiny at times.  But we still made it all the way to the Merlion in front of Fullerton Hotel and then to Raffles Place to board the MRT back.
*****
Next: Day 2 Singapore Getaway: Jurong Bird Park